How to Find Netflix Downloads Location on Android?
The offline feature of Netflix provides you with a lot of conveniences to watch videos and kill time when you're traveling and don't have access to the internet. It is currently only available on Amazon Fire tablets (Fire OS 4.0 or later), Android (Android 4.4.2 or later) & iOS (iOS 9.0 or later) devices, Windows 10 & 11 tablets or computers, and Chromebook and Chromebox computers.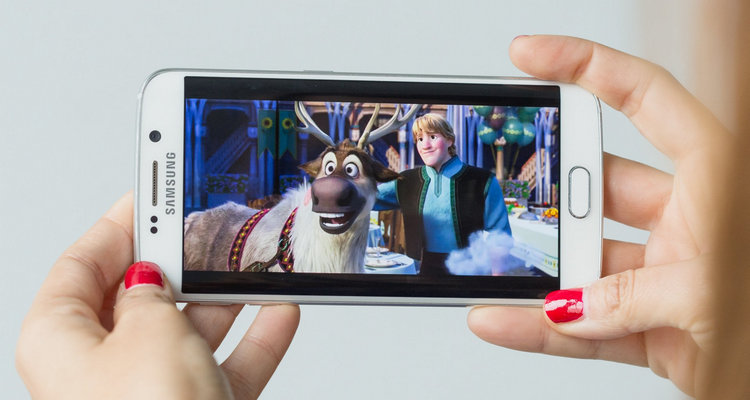 If you've downloaded some videos on your Android phone and are curious about where are Netflix downloads stored in internal storage, then this article is for you. Below we are going to explain where to find the Netflix download location on your Android phone in detail. Furthermore, we will show you how to change the download location and save Netflix downloads to an SD card for freeing up space.
If you want to know where are Netflix downloads stored on your Windows computer, you can refer to this guide: [Solved] Where Are Netflix Downloads Saved on PC?
1. Where are Netflix Downloads Stored on Android?
The process to find the Netflix downloads on Android is pretty easy. Here is how:
Step 1. First, you need to open Files (or other files manager) on your phone and find Settings. Then find and enable the option "Show Hidden Files".
Step 2. Then go back to the main interface of Files and open Internal Storage (or Phone) > Android > data > com.netflix.mediaclient > files > Download > .of.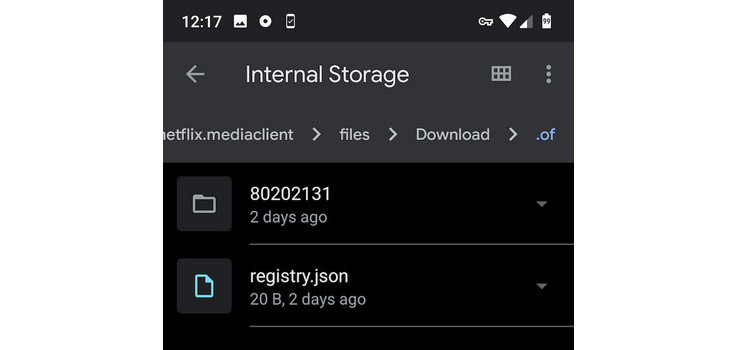 Now the folder is opened. But please note, all files in that folder are unknown data files with eight-digit random numbers as the name. You are not able to identify the movie or show.
2. How to Change Netflix Downloads Location on Android?
Phone storage is always limited. If you find your internal storage too full to store any other files, you can try to store Netflix downloads on your microSD card.
Step 1.Open the Netflix app and tap More or your profile icon.
Step 2. Select App Settings. Under Downloads, select Download Location.
Step 3. Then you can select where you would like to store your downloads.
NOTE: This will change the storage location of future downloads. Videos you have already downloaded will remain where they are. You can't move the downloads to other places. So, if you would like to free up memory, you need to delete those downloads from your internal storage and re-download them to the SD card.
3. Alternative Way to Store Netflix Downloads to SD Card
Now that you've downloaded Netflix content to your SD card, you may be wondering, how to insert the memory card into other devices and watch the downloads? However, what a pity, Netflix downloads are encrypted. The downloaded content can only be watched on the device you downloaded it on. If you want to share Netflix videos freely, you need to turn to a professional downloader to download Netflix videos in MP4 or MKV format.
FlixiCam is such a tool that can help you complete this task perfectly. It is a quality Netflix video downloading tool that can help users download any video from Netflix at great speed, with high resolution, subtitles and audio tracks preserved. Below is how it works:
Step 1. Sign in with Netflix Account
First, please click "Sign in" to open the Netflix login window and log into your Netflix account.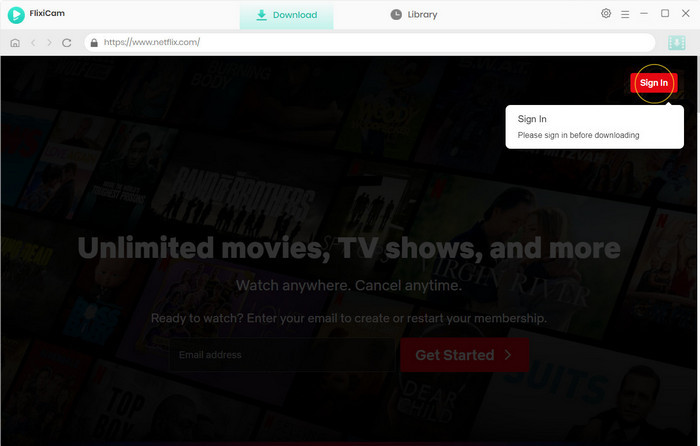 Step 2. Customize the Output Settings
The second step is to hit the gear icon to open the General Settings window. There you can customize the output format (MP4 or MKV), output quality (High, Medium, Low), output path, and more.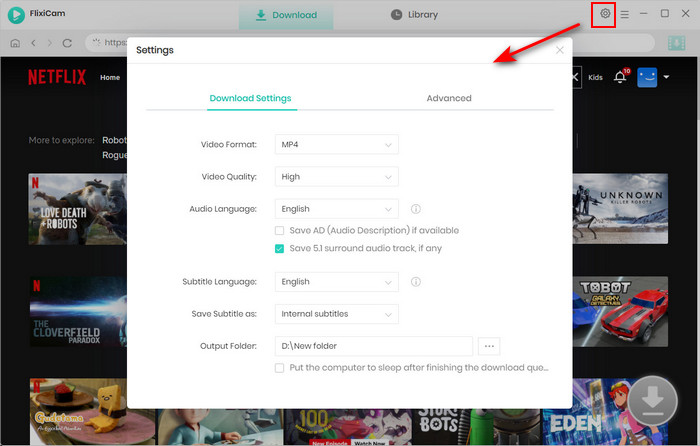 Step 3. Search Videos on FlixiCam
Simply enter the video name, the program will list the video or all of the related videos for your choice. You are able to download one video or a whole season.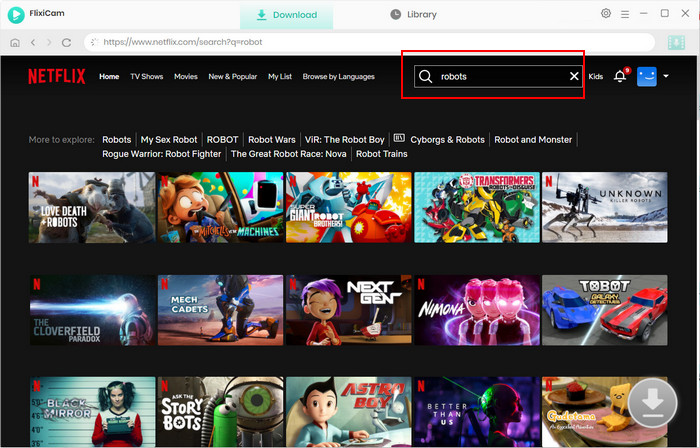 Step 4. Select Audio Track and Subtitle
Click the video you want to download, followed that the gray Download icon located at the bottom right will turn green. Tap on it and then you can choose season, titles, video quality, audio track and subtitles.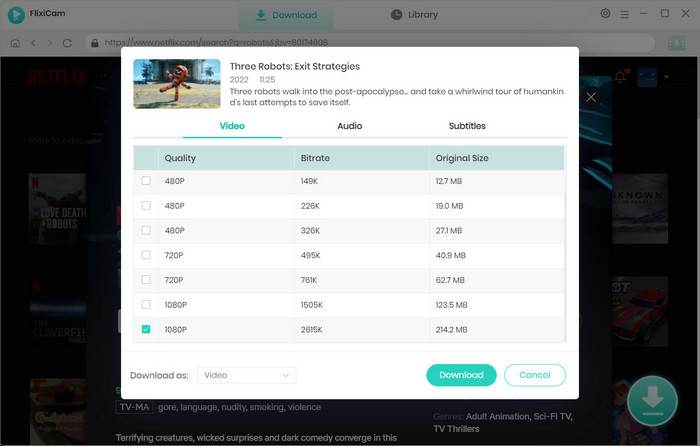 Step 5. Start to Download Netflix Videos
The final step is to hit "Download", the program will start downloading the Netflix videos to the output folder. Once completed, you can click on Library to find the well-downloaded Netflix videos on a local drive. Now you can connect your SD card to your computer, and save the downloads to it. After transferring, you can watch those downloads on other phones or tablets freely by inserting the memory card.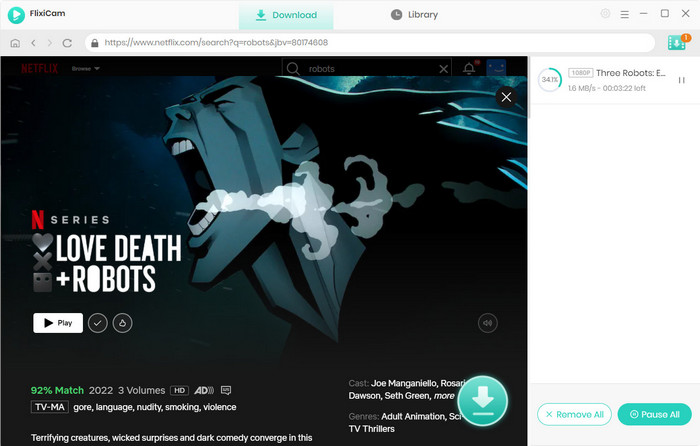 Final Words
It is easy enough to locate Netflix downloads on your Android phone or tablet and change the location by following the guide above. If you would like to share Netflix downloads freely, you can refer to Part 3 to download Netflix videos in a common format. FlixiCam provides a free trial version. If you don't believe it, simply give it a try.
---