How to Join Teleparty and Watch Netflix with Friends
Movie nights with friends are always a fun way to unwind and catch up on the latest flicks. But what if distance or circumstances make it impossible to gather together in person? Enter Teleparty (formerly known as Netflix Party) - a browser extension that allows you to synchronize Netflix, Disney+, Hulu, and HBO with friends over long distances, making movie nights possible no matter where you are.
Not only can you enjoy movies and shows together, but Teleparty also has chat features allowing you to discuss and react to your favorite scenes in real-time. Read on, we will go through all the steps needed in order to get started with Teleparty and start enjoying Netflix streamed content together! All you need is to follow us and grab your favorite snacks and drinks, send out your invites, and get ready for a fun and engaging movie night with your friends, no matter the distance between you.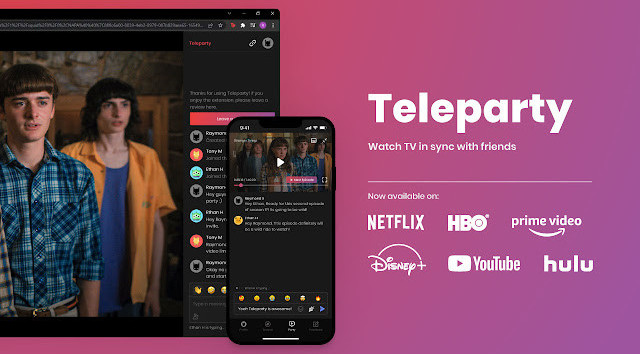 1. What Do You Need to Pay Attention to About Teleparty?
Teleparty is a browser extension and is supported on desktop and laptop computers running Chrome, Edge, Opera, and Firefox web browsers. It is not currently available on mobile devices or smart TVs. However, you can connect your computer to a TV using an HDMI cable or a wireless streaming device like Chromecast, Apple TV, or Roku to watch Teleparty on a larger screen.
Keep in mind that all participants must have the Teleparty extension installed on their web browsers to join the party, and they must have an account with the streaming service being used (Netflix, Disney+, Hulu, or HBO Max).
2. Steps to Watch Netflix Video with Friends by using Teleparty
To join Teleparty and watch Netflix with friends, follow these steps:
Step 1: Install the Teleparty extension on your web browser. And click on the extension icon located in the top right corner to pin "Teleparty".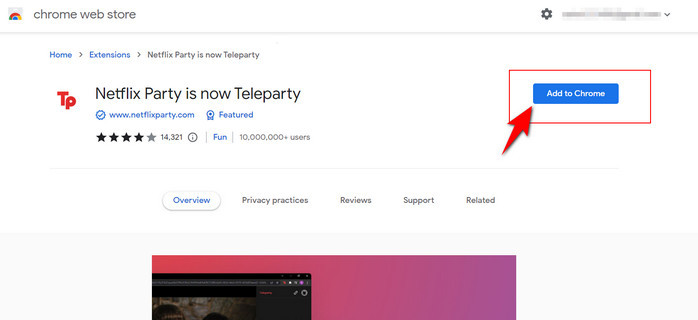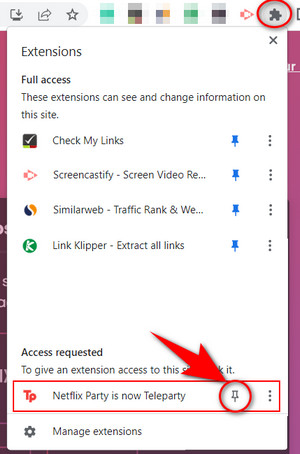 Step 2: Open Netflix, log into your account and choose the movie or TV show you want to watch.
Step 3: Click on the Teleparty extension icon in your browser's toolbar and allow the permission.

Step 4: Click on "Start the party" and a link will be generated.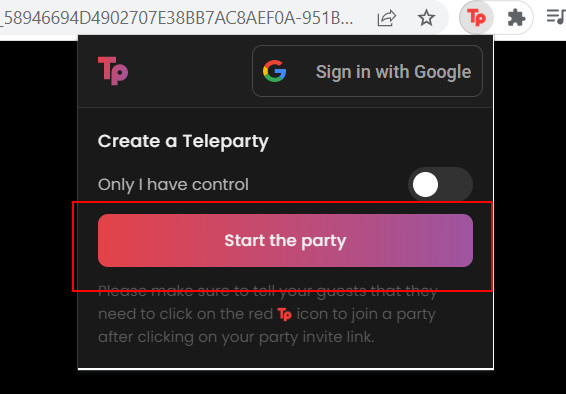 Step 5:Share the link with your friends who also have Teleparty installed.
Step 6: Now you can invite and share the generated link with your friends or people that you want to watch Netflix with to start your Netflix watching party.
Once your friends click the link, they will be redirected to the Netflix page and the video will start playing. You and your friends can chat in the sidebar while watching the video.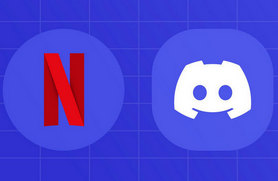 Tips: How to Stream Netflix Video on Discord
To share Netflix with your family or friends, you can also use Discord. Discord's screen share feature allows users to share your screen with others. This feature is useful for many purposes, such as presenting a project, giving a tutorial, or simply showing something to your friends. Learn More >>
3. Alternative Way to Share Netflix Video with Friends
Apart from using Teleparty, you can also save Netflix movies and shows as local files and share them with your friend. This works when you have a poor internet connection and watch to watch content offline, all you need is to download and convert content in MP4 or MKV format with FlixiCam. It is a professional video downloading tool in the market, capable of storing any title from Netflix to your computers with FHD quality, multilingual audio tracks, and subtitles kept. Once downloaded, the content will be saved as .mp4 or .mkv files, which makes it easy for you to share them with your friends. Just download the app for a try:
Store Netflix content locally without installing the Netflix app.
Output videos in MP4 or MKV format.
Keep 5.1 audio, FHD quality, multilingual audio tracks, subtitles.
Three subtitle modes enable you to watch them on any device with subtitles displayed.
How to Use FlixiCam
Step 1. FlixiCam needs to work with Netflix account. After launching FlixiCam on Windows PC, the first step is to log into your Netflix account by entering any word in the search box to open the Netflix login window.
Step 2. Tap the Setting icon on the upper right corner to select the output settings.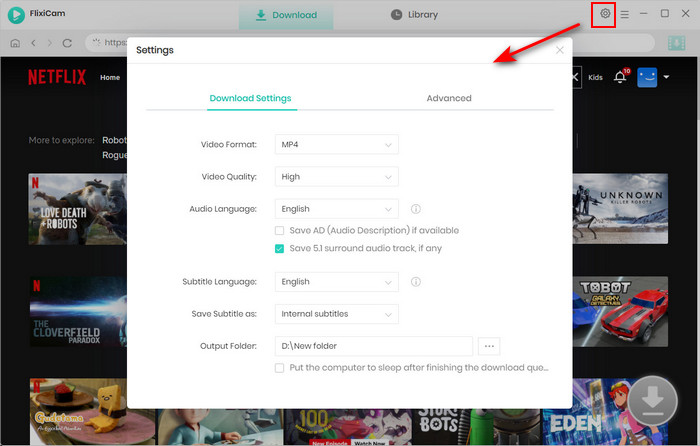 Step 3. Search video by entering keywords or the videos link copied from Netflix webiste.
Step 4. If you are trying to download a TV show, now simply click the Download icon, followed that a window will pop up allowing you to select titles as well as seasons, and to choose audio track and subtitles by clicking "Advanced Download" in the bottom left corner. If you try to download a movie, please click the "Advanced Download" icon beside "Download" to open the window.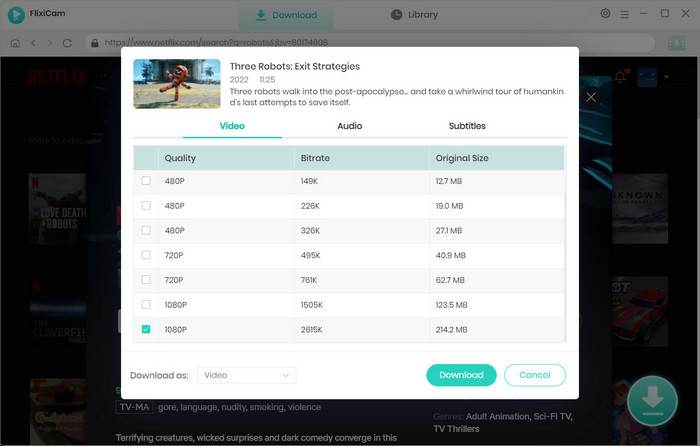 Step 5. Hit "Download", then the program will start downloading the Netflix videos to the output folder.
Conclusion
With the rise of streaming services and technology making it easier to share content, Teleparty offers viewers a unique way to watch videos with friends virtually. We hope this guide has been helpful in showing you how to use Teleparty for watching videos with friends. In addition, it also explores a different way to store content locally and share it with others, all you need is FlixiCam. It can help you download Netflix movies in MP4 and MKV format with a few clicks. So grab some popcorn and get your remote controls ready; it's time to turn on the TV!