How To Watch Netflix On Your Car Screen
When it comes to playing videos on the car screen, many people's first reaction is to use apps such as Carplay and Android Auto to mirror the content on the phone to the car screen for playback. But for safety reasons, some video software cannot be played on the car screen by using Carplay or Android Auto. However, as a necessary part of long-distance travel, the car screen plays an important role in providing entertainment for the co-pilot, passengers, and the children in the car.
You can still play Netflix on your car screen effortlessly with Apple Carplay or Android Auto if you're used to using them. Besides, you can simply use a USB drive to play Netflix movies or series on your car screen. If you want to enjoy the fun brought by Netflix during the trip, this article will introduce several simple methods to you.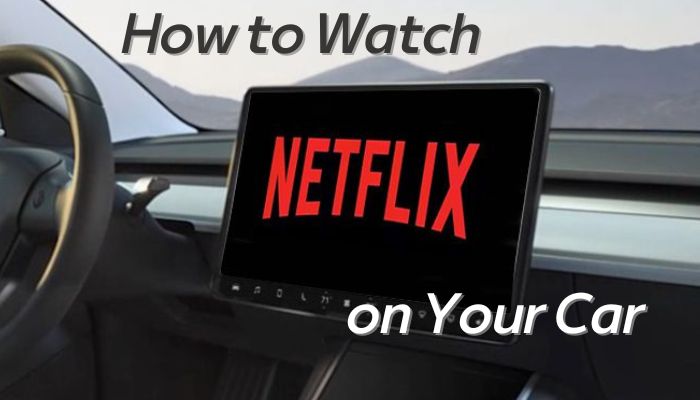 1. Watch Netflix on Apple Carplay
What is Apple CarPlay? 
Apple CarPlay is built-in software for cars. It enables you to connect your iPhone to your car and play videos and audio files from your iOS device on the screen and audio boxes in your car. Numerous streaming services, such as Amazon Music, Audible, Spotify, radio applications, podcasts, etc. are supported by Apple CarPlay. However, it is not compatible with Netflix or other video streaming services for some safety concerns.
Fret not, there are some third-party apps for you if you want to watch Netflix videos on Apple CarPlay. Please make sure that your vehicle works with CarPlay before using this method. To check if Apple CarPlay is available on your car, please click here.
Method 1: Carbridge App
It is a well-received app for watching Netflix videos on CarPlay. And the following is the guide to using the third-party app.
Jailbreak your iPhone.
Go to Safari and search for the Carbridge app.
Install the Carbridge app.
Connect your iPhone to your car through Carbridge.
Launch Netflix, and you can stream Netflix content in your car.
The following is a video tutorial for downloading Carbridge on your phone.
Method 2: MMB Box
The MMB (multimedia box) can be integrated with your CarPlay system by simply connecting it to the car's stereo. It will transmit whatever you play on it to the infotainment system in your car. And it is an alternative to the third-party app if you don't want to jailbreak your iPhone.
Connect the MMB box to a car stereo using a Type A, Type C, or HDMI cable (whichever is supported).
Launch Apple CarPlay.
Go to "Settings", and choose to connect to your mobile hotspot.
The MMB CarPlay adaptor box is pre-loaded with the Netflix app. Choose Netflix, then start watching movies or series you want.
2. Watch Netflix on Android Auto
What is Android Auto? 
Android Auto is a mobile app developed by Google. It can mirror the features on your Android phone to your car. You need a supported Android phone and a compatible car radio system in order to use this functionality. To know the compatible vehicles and stereos, please click here. You need an Android phone with Android 8.0 (Oreo) or higher and an active data plan to connect your phone to your car with a USB cable. If you want to use a wireless connection, you need a phone with Android 11.0 and 5 GHz Wi-Fi support.
If your phone runs Android version 10 or above, then you have Android Auto pre-installed on your phone. Otherwise, you need to go to Google Play Store and download Android Auto on your phone. After downloading Android Auto, you also need other apps to help you play Netflix on your car screen such as AA Pheno, AA Mirror Plus, Fermata and CarStream.
Method 1: Android Auto Apps Downloader (AAAD)
Android Auto Apps Downloader (AAAD) program for Android phones allows users to download and install popular third-party apps on Android Auto. There are free and paid versions of AAAD. You can only download one app for free each month if you choose the free edition, however the pro version gives you access to all applications at any time. You can check this video tutorial on downloading AAAD and follow the step. After downloading it, you can download apps such as Fermata on your phone so that you can play saved videos in your phone's memory.
Go to here and download AAAD on your phone.
Open AAAD.
Install apps such as Fermata on your phone from AAAD.
Play saved videos in your phone's memory or from the web browser.
3. Use a USB Flash Drive
This method is most recommended as the operation steps are simple. It does not require you to be connected to the Internet when playing the video, and it does not need to take up a lot of preparation time. In addition, no cable is needed if you use this method. Just insert your USB drive, and you can enjoy the videos on your car screen.
Before that, you need to download Netflix videos to a USB drive first. FlixiCam is a Netflix video downloader that can help you download your favorite Netflix titles and transfer them to any device you want. Not only can you transfer Netflix downloads to USD drive, but also mobile phones, tablets, and even TVs. Videos will be saved in the MP4/MKV format with 5.1 surround sound by using FlixiCam. And you can install this amazing tool on your Windows and Mac computers. With the help of this utility, you can download videos in up of 1080p quality while keeping the subtitles and audio tracks in many languages.
An excellent Netflix downloader that supports downloading Netflix movies & shows with great speed!

Learn more about FlixiCam >>
Tips: FlixiCam needs to work with a valid Netflix account, so please do make sure your Netflix subscription is still within the validity period. Plus, please note that FlixiCam doesn't support to get 1080P video while working with Netflix's Basic and Basic with Ads plan.
If you're using the Netflix app to download videos, downloaded videos will expire after 48 hours start watching them. Plus, it's not available to watch Netflix videos after your subscription ends. Fortunately, videos downloaded by FlixiCam will not expire. With the help of this app, you can keep Netflix videos locally permanently, and you are free to move them to whatever screen you want, and watch them offline.
Final Words:
If you are accustomed to Apple Carplay, you can choose whether to install the program (Carbridge) or to connect a multimedia box to your car according to your preference. For playing Netflix videos, Android users can use AAAD to download and install third-party apps on Android Auto, such as Fermata and CarStream. If you don't want to install too many apps or buy an extra device, you can download Netflix videos to your USB drive with FlixiCam, and play the downloads on your car by simply inserting it into your car. Click the links below and start your free trial.