All-in-one Streaming Video Downloader Review
Tons of apps don't have built-in download features, which must worry their users. If you have ever encountered a situation where you want to save content from your favorite creators but cannot find the download icon, you would know the frustration. Or it may happen when you find your downloaded video in streaming services like Netflix disappear for no reason, and finally figure out the downloads will expire due to the rules of streaming platforms after searching some pages.
Most people want their downloads could be saved forever, but the reality is that if you want to watch the videos offline any time you want, you have to maintain the validity of your subscription, naming never stop paying for your subscription. So, is there any easy way to save your favorite content from social media and streaming services? Absolutely yes. You can find a downloader that is able to download videos from multiple sites.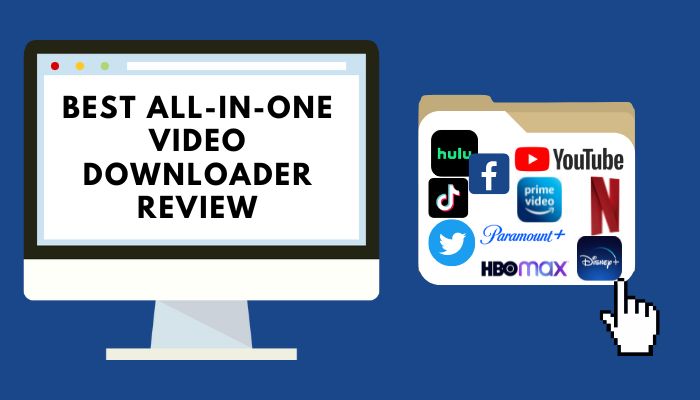 Best All-in-one Video Downloader -- VidiCable
Different from most all-in-one video downloaders on the market that only focus on social media, their supported devices are also limited: you can only download with Android or iOS devices. VidiCable is an all-in-one video downloader designed to solve the difficulty of downloading videos from different platforms with the same tool. This app is best for downloading videos from more than 15 popular sources, including both social media and streaming services. 
Get Videos from More Than 15 Websites
VidiCable enables you to download videos from more than 15 well-known streaming sites. Free downloads of movies are offered by VidiCable from sites including YouTube, Vimeo, TikTok, Twitter, FaceBook, and Dailymotion. And membership is necessary to access services like Netflix, Amazon, Disney+, Hulu, HBO Max, Paramount+, Discovery+, and more.
Save HD Videos in MP4/MKV Format
With VidiCable, you can download films and TV shows in a range of resolutions depending on your demands and the storage of device (240P-8K). YouTube is capable of 8K video output, and other sites support up to 1080P. This most advanced tool also allows you to download videos in the most transfer-friendly MP4 and MKV formats, making it easier to binge-watch them on any device, including your phone, tablet, and smart TV, even without an internet connection.
Smart Searching Feature
VidiCable can search the videos in two smart modes. The first one is to enter the name or title of the video into the search bar on VidiCable, and all relevant videos will be listed. Or you can use the accurate search:  find the video you want to download on the web player, copy and paste the video URL into the search box. Please verify that the video is accessible for download; else, download attempts will fail.
Multi-language Audio Tracks and Dolby 5.1 sound
Multiple language audio tracks and subtitle downloads are supported by VidiCable. Subtitles and audio tracks in nearly 30 kinds of languages can be accessed to. The language selection depends on the language of the video's subtitles and audio tracks, your location, and other possible factors. Furthermore, the selection of Dolby-Digital 5.1 surround sound can also provide you with the most incredible audiovisual experience that makes you feel like you are on set.
Advanced Video Codec for Downloading
The H.264 or H.265 video codec options guarantee that VidiCable is the most effective downloader. The video can be compressed to a very tiny size because of its high compression ratio of H.264. The download time and data traffic costs will be reduced greatly by using H.264 compression technology. H.265 codec is able to transmit higher-quality network video under limited bandwidth, so only half of the original bandwidth is required to play the same quality video. Thus, these two video codecs altogether improve the user experience.
Lightning Download Speed & Batch Download Mode
VidiCable enables lightning-fast downloading owing to its powerful download core. Unlike recording software, there is no need to wait for the video to finish downloading. It's acceptable to use your computer to perform other tasks while downloading. Additionally, the batch mode enables you to download numerous TV episodes or movies at once. The application starts downloading the videos in batches as soon as you add them to the download queue.
Prices of VidiCable
VidiCable offers two subscription plans: the annual plan and the lifetime plan. The annual plan costs $119.9/year. To purchase a lifetime plan, you need to pay $259.9. Currently, the monthly plan is not available. If you want to buy a monthly Netflix downloader, please click here.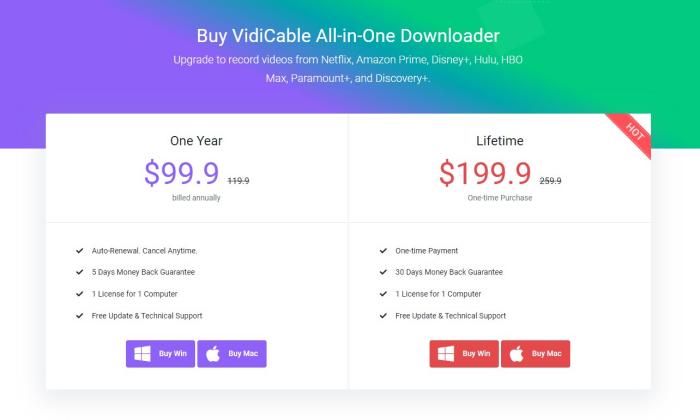 Tutorial: How to Download Videos with VidiCable
The following is the complete guide to downloading videos with VidiCable. Please download the program before getting started.
Step 1. Select Website
Download VidiCable on your PC first, and then select the website from which you want to download videos. After you confirm your selection, the program will restart. Please sign in to your account before downloading from charging websites. Type any word into the search bar, and the web player for Netflix, Amazon, Disney+, HBO Max, or Hulu will open automatically. If you want to download videos from a free website, you can skip the log-in part.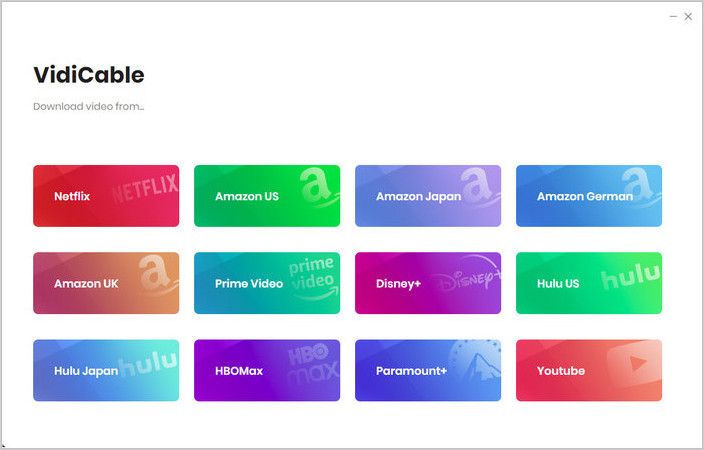 Step 2. Customize the Output Settings
Click the Gear icon at the top-right part of the program to access the Settings window. In this stage, if you choose to download from a paying website, you can choose the video format, output quality, output path, as well as customize the audio language and subtitle language. If you choose free websites, you can customize the video quality, output path, subtitle language and subtitle format in the setting window.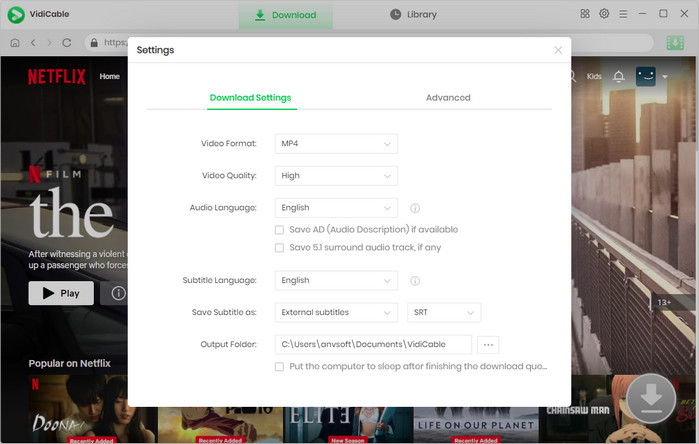 Step 3. Search for Videos
For charging websites: you have two options when searching: either type the URL or the name of the video you want to download. The associated videos will all be listed in VidiCable when you press the "Enter" key on your keyboard.
For free websites: you can search by copying and pasting the video URL you want to download into the search box.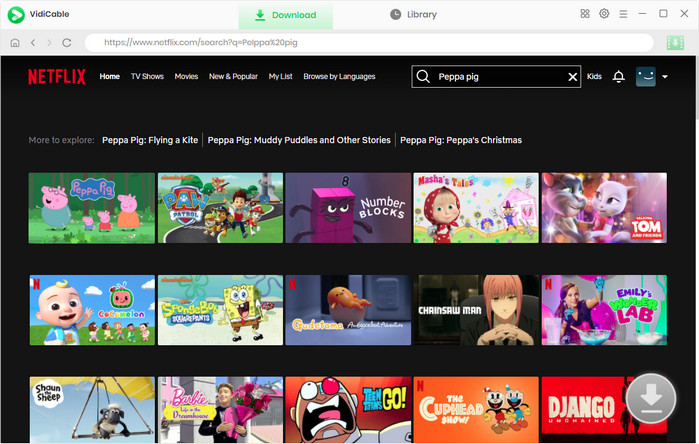 Step 4. Advanced Download Settings
For charging sources and YouTube: VidiCable allows you to make advanced settings for particular videos. Simply click the download button to start downloading a TV show, and a window for choosing seasons and titles will pop up. By pressing "Advanced Download," you can also change the audio and subtitle tracks. Additionally, you can select a different resolution for a particular video here. To download a movie, press the icon next to the "Download" icon.
For other free websites: you can go to step 5 directly.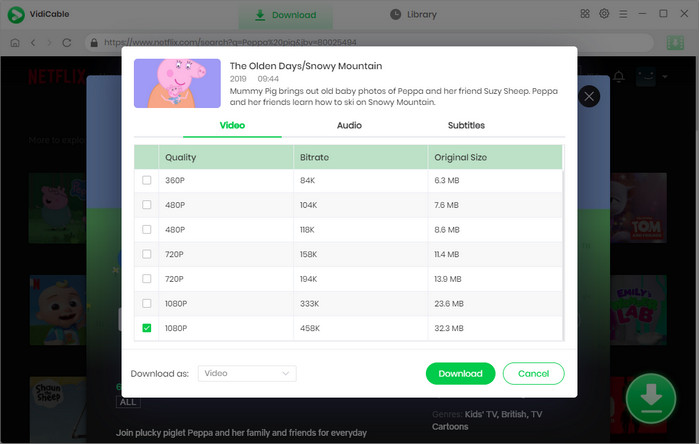 Step 5. Download Videos
Click the download button to start downloading once all the settings have been made. You can access the output folder by hitting the Library tab and choosing the folder icon.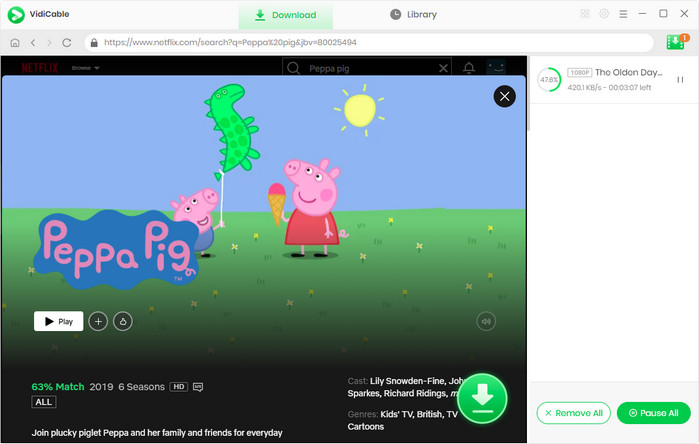 Final Words
You should have a comprehensive understanding of VidiCable after the introduction. It is best for downloading videos from social media and streaming services. If you are looking for a video downloader that can download videos from more than 15 hit sites. Don't hesitate to try!