How to Share after Netflix's Password-Sharing Crackdown
Netflix is cracking down on password sharing in four more countries on February 9 — Canada, New Zealand, Portugal, and Spain. It is not the first attempt at Netflix's crackdown on account sharing. It has already begun testing the change in Latin America over the past year, and now stepping up its efforts in preparation more extensively "in the coming months". And the policy is expected to be rolled out in the U.S. in March.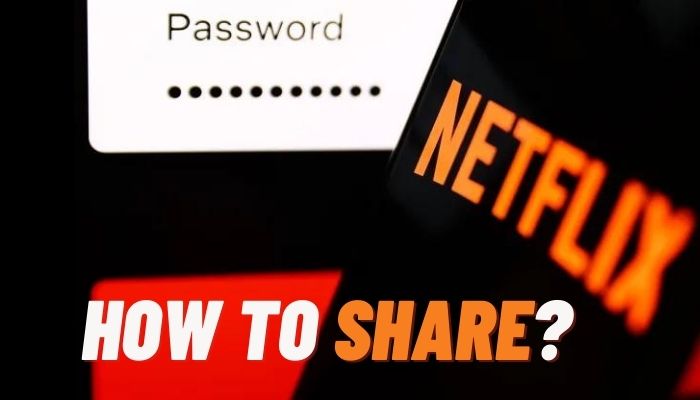 There are now over 100 million households sharing accounts, so the move is a strategy of the company that is expected to increase the number of subscribers. For Netflix's subscribers, it's not good news because they need to pay extra to share with others. The following will focus on the password-sharing guidelines and the way of sharing Netflix videos after the password-restricted policy is launched.  
1.What's the household?
A Netflix account is meant to be shared in one household (people who live in the same location with the account owner). For access to Netflix, those who are not living in your household must create their own accounts. According to a Netflix spokesperson, the streaming giant will use an IP address, rather than the physical location of the account holder, to identify the primary account holder. 
The trial requires users to connect their viewing device, such as a TV, smartphone, or tablet, to the wifi in their home. And the users must use Netflix at least once every 31 days.
2.How many countries have implemented this policy?
Users in Canada, New Zealand, Spain, and Portugal will now be required to set up a "primary location" for their accounts and manage who has access to them. And they will be given two "sub accounts" for users who don't live in that household, according to the streaming service. For adding extra users, subscribers in Canada, New Zealand, Spain, and Portugal will be charged CA$7.99, NZ$7.99, 5.99 euros, and 3.99 euros respectively.
3.How many extra members can you buy?
Purchasing extra members is not an option for subscribers of Basic and Basic with ads plans. Members on Standard or Premium plans can add one to two more member sub accounts, each with a profile, personalized recommendations, login, and password.

4.What if you want to watch Netflix when you're outside of the household?
According to the statement, subscribers can still access Netflix when traveling on their own devices and by logging in from different locations, such as a hotel.
It is thought that you would be able to ask for a temporary code from the service when logging in if you are traveling and want to sign in to Netflix on a device that it's not yours. After signing in by using the code, you can access your account for up to seven consecutive days. Unless the primary account holder is away from their primary location for a long period, they shouldn't need to verify their personal devices, said Netflix. 
If you are a Basic or ad-tier plan subscriber, you need to upgrade to Standard plan or above first to get the chance of adding an extra member, which means you need to pay two more fees for sharing videos. Beyond that, the extra member must set up their sub-account in the same nation as the account owner, acclaimed Netflix, which makes things difficult if you want to share with your friends or family abroad. What can we do since the new password-sharing rules have been announced? The best and easiest way to get rid of them is by transferring the downloaded video files to people you want to share. You can use FlixiCam, a Netflix video downloader, to save the videos you want to share with others. These videos will not expire like the videos stored in the Netflix app, and there're no limits on sharing.
Tool Required - Netflix Video Downloader - FlixiCam
FlixiCam is a handy tool that can help you download any Netflix videos in MP4/MKV files, thus ensuring you can share unlimited videos with whomever you want. You can get up to 1080P resolution videos by using FlixiCam, and Dolby 5.1 surround sound will greatly increase your watching experience. Additionally, multilingual subtitles are available to meet different needs. FlixiCam can be downloaded on both Windows and Mac devices for free.
Watch Netflix titles offline on more devices by using FlixiCam to download them in a widely-accepted format - MP4!

Learn more about FlixiCam >>
The tutorial of downloading Netflix videos is provided below. Read on and give it a try on your own.
Before sharing without restrictions, you can download the videos you want by using FlixiCam first.
Step 1.  Open FlixiCam and Log into Netflix Account
Download and open FlixiCam on your computer, then type any character into the search bar. You can sign into your Netflix account in the pop-up window.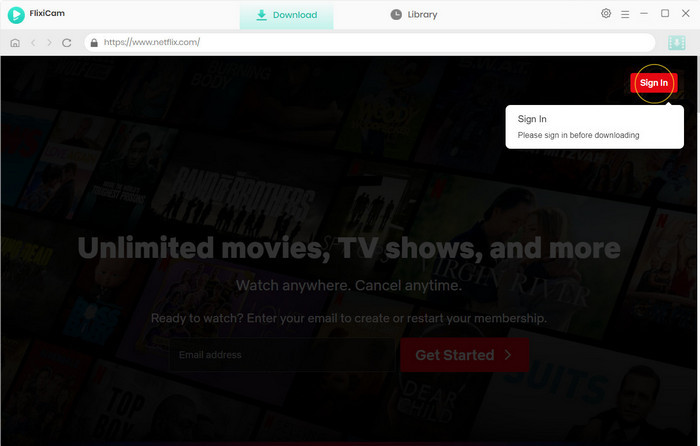 Step 2. Customize the Output Settings
Click the Gear icon to open the setting window. It is available to choose the output format (MP4 or MKV), output quality, output folder and the audio and subtitle languages. Up to 30 kinds of languages can be selected.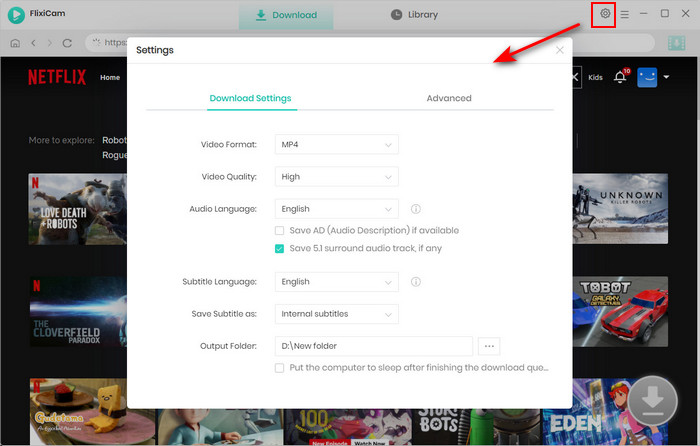 Step 3. Add Videos on FlixiCam
Here you can add videos you want to download and share. There are two ways to search for the videos. You can either enter the keyword or copy and paste the video link from Netflix on the search box. FlixiCam will display the results immediately.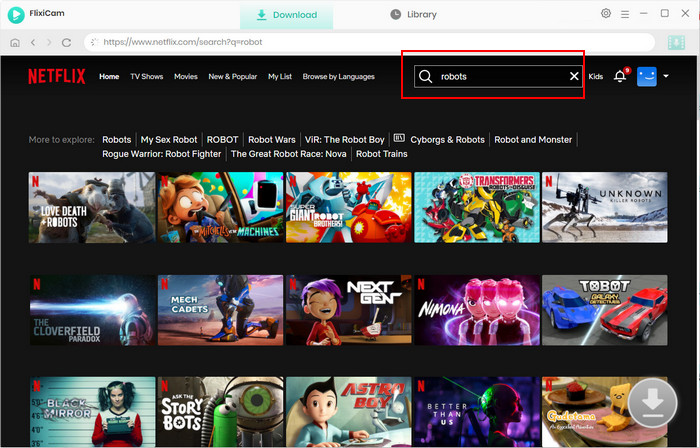 Step 4. Select Audio Track and Subtitle
You can change the download settings for particular videos in this step.
If you want to download a movie, you can click the "Advanced Download" next to the Download button, and you can select video quality, audio tracks, and subtitles.
To download TV series, click the download button directly and you can select which season and episode you want to save.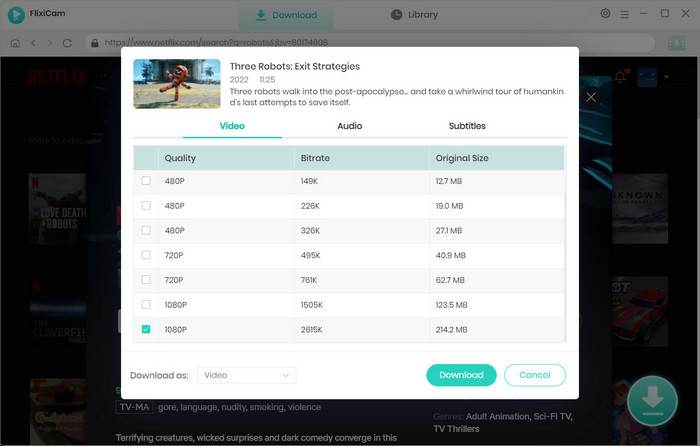 Step 5. Start to Download Netflix Videos
Now the prep is over. Hit the download button directly, and the videos you add into the download list will be downloaded at a very fast speed. When the download is finished, click "Library" to find the videos.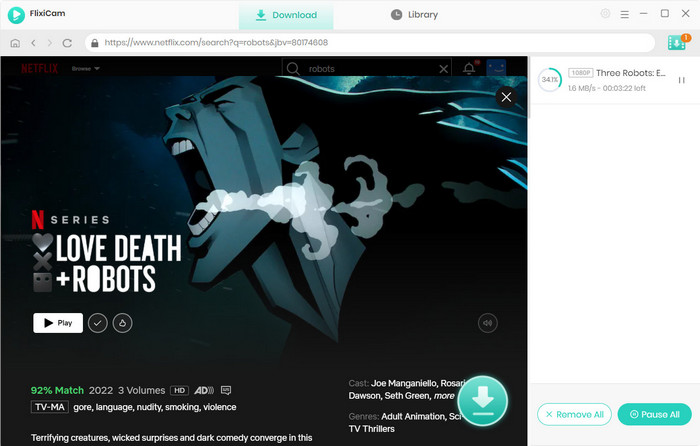 After saving videos on your computer, you can forward them to your family or friends, or to every compatible device you want. There is no limit to the number of videos you can send. And videos downloaded by FlixiCam will not expire or be removed by Netflix because they are saved locally.
FlixiCam can assist you in sharing videos after the password-sharing crackdown. You can still keep the original subscription, and you can download videos even on the ad-supported plan by using FlixiCam. Every video downloaded by this app will be kept permanently, and you don't need to worry about their expiration date and the limit of extra members set by Netflix because there's no need to pay for adding an extra member. FlixiCam will be your best choice for downloading Netflix content in the months ahead after Netflix extends the password-sharing crackdown in more countries. To experience the fantastic functions, try FlixiCam!