How to Add Netflix Downloads to Final Cut Pro
Adding some amazing movie clips can be a great way to easily make your video project more fantastic and attractive. There are many video materials that can be added to your video project. Scenes of your personal life, funny animation, music video clips...all those can not only make for an entertaining experience, but also help bring about greater clarity and intricacy for viewers. Final Cut Pro, renowned for being one of the best video editing software around, is a great tool to produce visually stunning work and make the process so much easier. However, not all videos can be added to Final Cut Pro for video editing.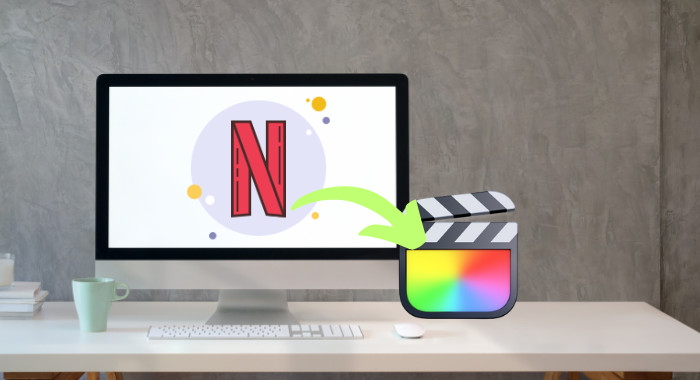 Videos must be lock-free in order to import into Final Cut Pro. Digital content downloaded from streaming services like Netflix is not allowed to use on other apps than its own software, unless you convert them to wide-accepted MP4 or MKV format. If you are fascinated with some Netflix movies and looking to add them into Final Cut Pro, then you cannot miss this guide. Because in the following content, we will show you a top-ranking Netflix Video Converter to help you save Netflix movies in MP4 format and import them to Final Cut Pro.
FlixiCam Netflix Video Downloader
The tool we recommend here is called FlixiCam. It is a professional tool that enables users to quickly and easily download video content from Netflix. With its advanced technology, users won't have to worry about protection issues when they download videos. The program also allows users to quickly convert the downloaded content into multiple formats including MP4 and MKV, so they can transfer videos across devices and watch them anytime and anywhere.
FlixiCam's intuitive user interface makes downloading and converting videos faster than ever before – making it an important tool for all Netflix lovers who want to take their movies offline. After downloading with FlixiCam, all the videos can be added to other apps like Final Cut Pro for video editing.
How to Add Netflix Downloads to Final Cut Pro
The process to download and add Netflix videos into Final Cut Pro is not very complicated. For the first use, you can download FlixiCam and follow the steps below. Before getting started, please download FlixiCam on your Mac.
Step 1. Run FlixiCam on Mac
First of all, run FlixiCam. Since the program requires a valid Netflix subscription, then you need to enter any word into the search box to open the login window and sign in with your Netflix account.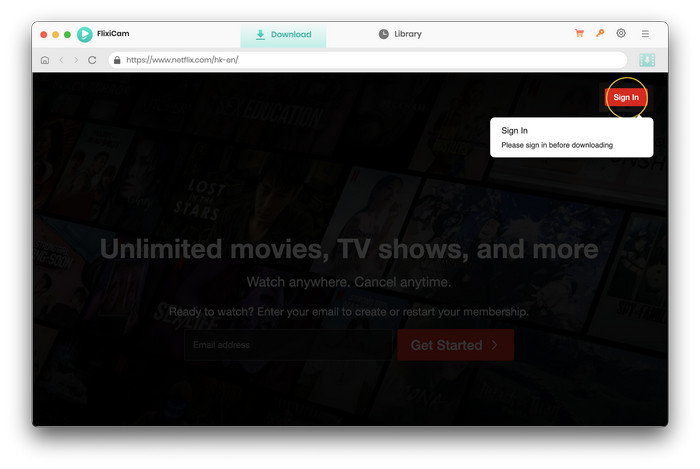 Step 2. Customize Download Settings
Secondly, open the setting window to choose the format, and the default language option of the audio track and subtitle you want to get. Plus, you can also select subtitle modes, enable the hardware acceleration, 5.1 audio option, and so forth.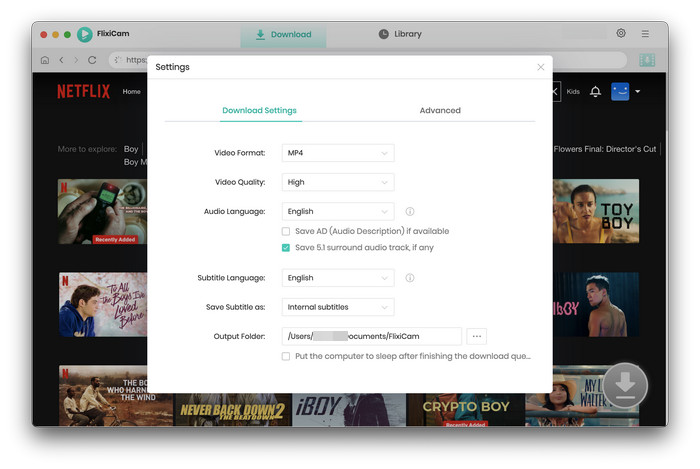 Step 3. Search Videos on FlixiCam
Now, it's time to add your target video. Please enter the name of movies & TV shows or copy and paste the link of videos from Netflix Web Player to FlixiCam, and then click the little magnifier icon, followed that the program will list the video or all of the related video.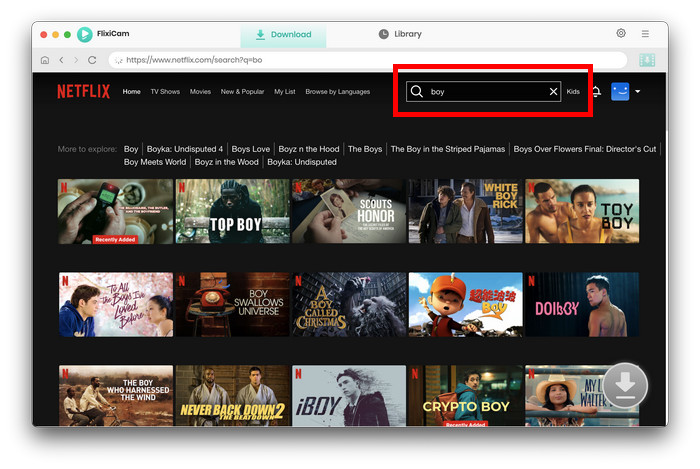 Step 4. Select Audio Track and Subtitle
FlixiCam's advanced download settings allow you to select the audio track and subtitle as needed. If you are trying to download a TV show, simply click the Download icon, followed that a window will pop up allowing you to select titles as well as seasons, and to choose audio track and subtitles by clicking "Advanced Download" in the bottom left corner. If you try to download a movie, please click the Advanced Download icon next to the Download icon to access the window.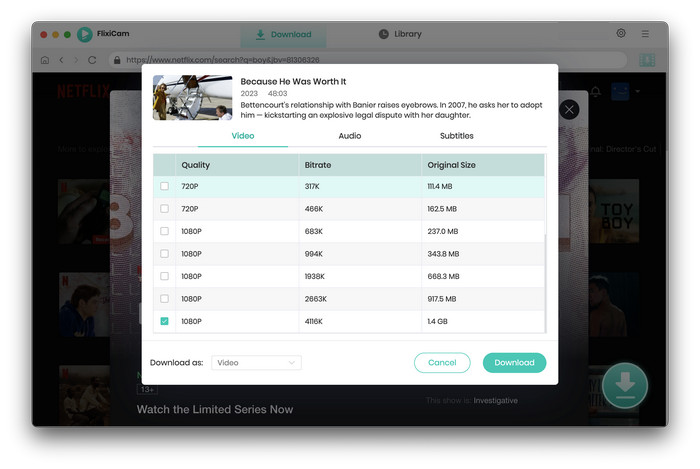 Step 5. Start to Download Netflix Videos on Mac
Finally, tap on the Download button and wait for a while. The download time relies on the audio track, subtitle, video quality, video format you choose and your network. After downloading, you can click on Library to find the well-downloaded Netflix videos on local drive.
Step 6. Add Netflix Downloads to Final Cut Pro
Open Final Cut Pro, choose File > Import > Media (or press Command-I). Then find your media and click Import. You will now see your imported clips in your project panel.

Conclusion
FlixiCam is altering the game when it comes to downloading and adding Netflix videos to Final Cut Pro - giving you a new level of editing convenience that you won't find with traditional methods. Now, video editors can easily and quickly download streaming content from Netflix and use it within their own projects using the highly-rated FlixiCam tool. With a fast, easy, and smart downloading solution, this amazing application helps both professional and amateur video editors achieve high-level results with minimum effort or programming knowledge. With FlixiCam's help, you'll be able to seamlessly integrate Netflix movies into your projects without any issues, making sure every detail is polished for a high-quality end-product!