Two Ways to Download Netflix Videos to Flash Drive [100% Working]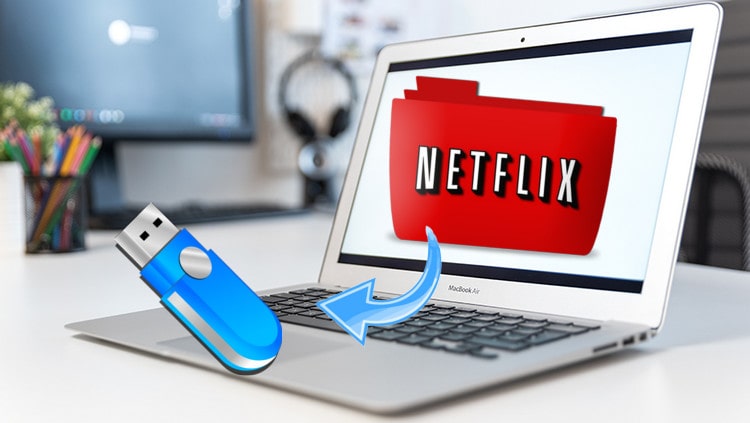 Netflix provides the option for its members to download videos on Windows 10 for offline viewing. By default, these downloaded videos are saved on the drive where the Netflix app is installed. However, if you are a frequent Netflix user, you may have noticed that there is no way to choose a specific location to store the downloads after installation. The Netflix app for Windows 10 does not offer this feature.
Additionally, Netflix encodes its content in a proprietary format, making it difficult to transfer the downloaded files to other devices, such as a flash drive, and play them normally. But what if you need to change the location of your Netflix downloads due to limited storage space? Don't worry, we have the solution! Below, we will explain two simple methods to store Netflix videos on a flash drive.
Method 1: Move Netflix App to Flash Drive
To download Netflix videos to a flash drive, you can move the installed Netflix app in Windows 10 to change the download location. After you move the Netflix app to the new drive, Netflix will save all videos into the new location. Here are the steps:
Step 1. Insert your flash drive into the computer.
Step 2. Go to the Windows Start Menu and open Settings, then navigate to Apps > Apps & features.
Step 3. Scroll down and find the Netflix app. Click on Netflix to see Move and Uninstall buttons.
Step 4. Click the Move button and then select the flash drive to save the Netflix app and Netflix downloads. Please make sure that the drive has enough free space.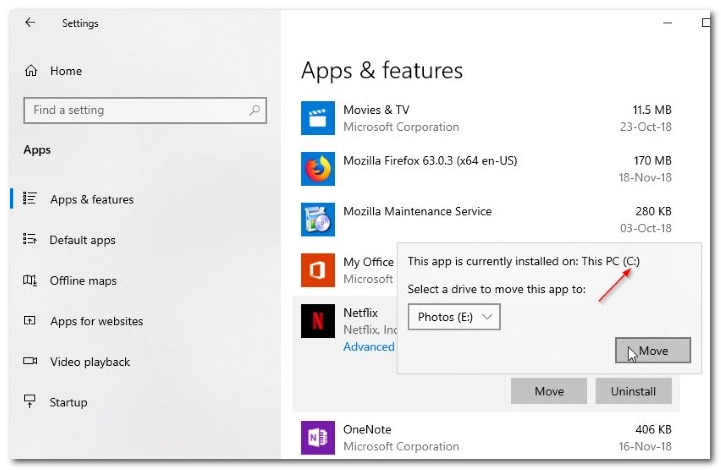 Step 5. Then, tap the Move button again to move the Netflix app.
It is worth mentioning that if you set USB flash drive as the new download location, you are required to carry the flash drive every time you stream Netflix.
Method 2: Download Netflix Videos as Local MP4 Flies with FlixiCam
To save Netflix videos on a flash drive, the best method is to use FlixiCam to download the videos as local MP4 or MKV files. FlixiCam is a professional Netflix video downloader that can download any video from Netflix in MP4 or MKV format, preserving multiple audio tracks, subtitles, and HD video quality. With FlixiCam, you can store all your favorite Netflix videos on a USB flash drive and enjoy them on your devices even after your Netflix subscription ends.
Full compatible with Windows 7, 8, 10, 11, and Mac computers, FlixiCam grants you the ability to watch Netflix offline anywhere anytime!

Learn more about FlixiCam >>
Here is a detailed tutorial on how to download Netflix videos with FlixiCam and transfer them to a flash drive. Before we begin, please make sure to download the FlixiCam program.
Tutorial: Download Netflix Video with FlixiCam
Step 1. Run FlixiCam on PC and Log into Netflix Account
Upon launching FlixiCam on your computer, you'll be presented with a concise and user-friendly interface, as depicted below. Just click on the "Sign in" button to continue. This will cause a login window to pop up, where you'll need to log into your Netflix account.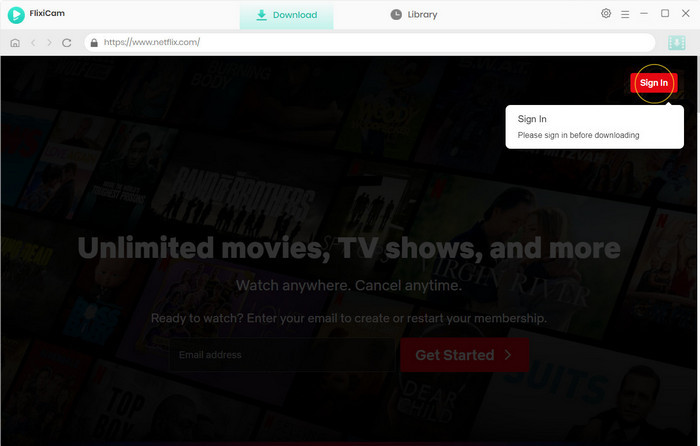 Step 2. Customize the Output Settings
Click the Settings button located at the upper right corner to access the basic parameters. Here, you can adjust the output format, output quality, output path, audio and subtitles language, and more.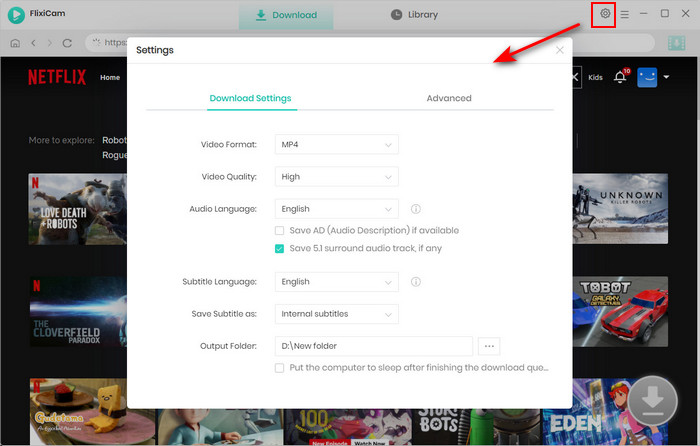 Step 3. Search Videos on FlixiCam
By seamlessly connecting to the Netflix website, FlixiCam simplifies the video search process. All you have to do is input the video's name, and the program will compile a list of either that specific video or all the related videos.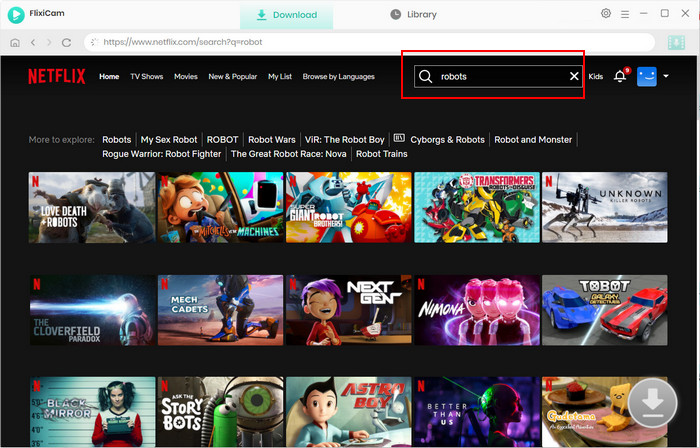 Step 4. Select Audio Track and Subtitle
Just click on the video you desire and the gray Download icon at the bottom right will turn green. Tap on the green icon and you can customize the season, titles, video quality, audio track, and subtitles.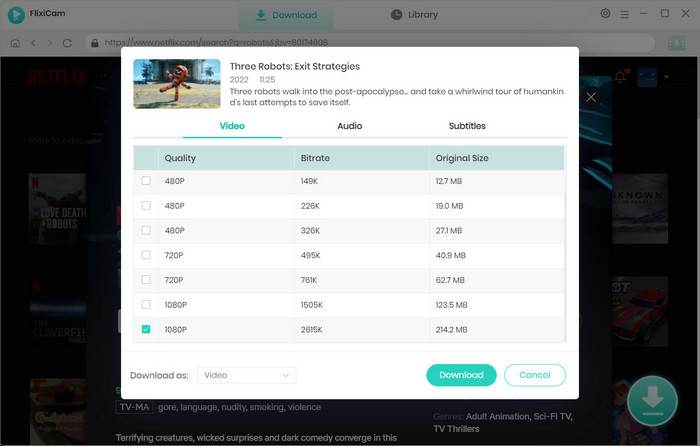 Step 5. Start to Download Netflix Videos
Finally, click the Download button to initiate the downloading process. FlixiCam will start downloading the Netflix videos. Once the download is complete, you can transfer the downloaded videos from FlixiCam to your flash drive as common MP4 or MKV files.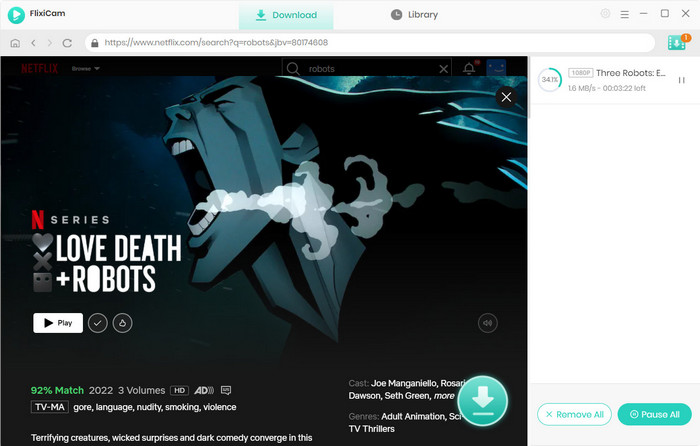 Conclusion
Both methods offer a solution for saving Netflix videos on a flash drive. Using FlixiCam provides more flexibility and control over the downloaded videos, including the ability to choose output formats and preserve high-quality video and audio. On the other hand, using the Netflix app's offline viewing feature allows you to directly download videos from Netflix, but they may have limitations in terms of compatibility with other devices.
Choose the method that suits your needs and enjoy your favorite Netflix videos on the go with a flash drive!