How to Move Netflix Movies to USB Drive
How big are the downloaded movies from Netflix?
Are you also wondering about the size of downloaded movies from Netflix and how to save them on a USB drive? In this article, we will explore the file sizes of downloaded Netflix movies and introduce FlixiCam, a reliable Netflix video downloader that allows you to easily download and store your favorite movies on a USB drive. Say goodbye to device storage issues and enjoy high-quality viewing on the go.
The Size of Downloaded Netflix Movies
By default, Netflix offers the Standard Quality option for downloading content. In this setting, the size of most hour-long movies typically ranges from around 500MB to 1GB, depending on factors such as duration and content. However, if you choose to increase the quality to High, the size of the movie can jump to between 1.6GB and 2GB or even larger. Movie lovers should be aware that these larger file sizes can quickly consume device storage and potentially impact the performance of their devices.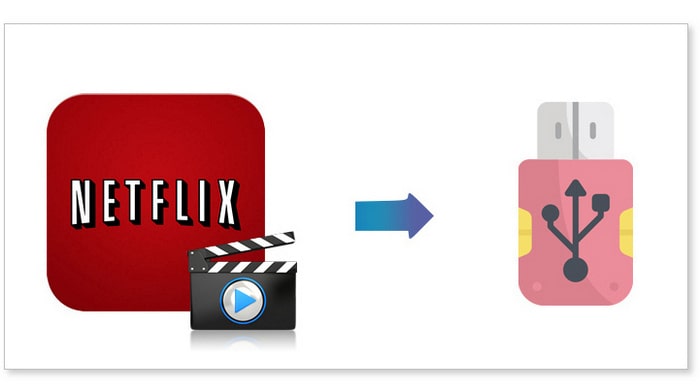 It is crucial to avoid using a computer with slow performance and limited storage capacity. To free up space, it is recommended to transfer downloaded files to a USB drive or external hard drive. However, transferring Netflix videos to a USB drive may seem impossible as they are stored in a proprietary format and only accessible within the app. Does this mean we have to delete some files?
Absolutely not! Luckily, with the help of a Netflix video downloader, you can easily download any video from Netflix and save it or move it to a USB drive. In this article, we will introduce a powerful Netflix video downloading tool that enables you to save all your favorite Netflix videos to a USB drive.
Download Netflix Movies on Computer with FlixiCam
To download and save Netflix videos to a USB drive, we highly recommend using FlixiCam. FlixiCam is a professional video downloading tool that provides the necessary capabilities to handle Netflix video downloads. With this tool, you can download movies and TV shows from Netflix on your computer, whether it runs on Windows 11/10/8/8.1/7 or macOS (10.15 or above).
One of the best features of FlixiCam is its ability to download videos in HD quality while preserving 5.1 surround sound. This ensures that you can freely switch between languages and enjoy the same immersive viewing experience as provided by Netflix.
Now, let's proceed and learn how to save all your favorite Netflix videos to a USB drive using FlixiCam.
Enjoy Netflix videos on more devices by using FlixiCam to download them in a widely-accepted format - MP4!

Learn more about FlixiCam >>
Tutorial: How to Save Netflix Video to USB Drive
Step 1. Run FlixiCam on Windows and Log in to Netflix Account
Launch FlixiCam on your computer, and you'll be presented with a clean and concise interface, as shown below. Just click on the "Sign in" button to continue. This will trigger a login window to appear, asking you to log into your Netflix account.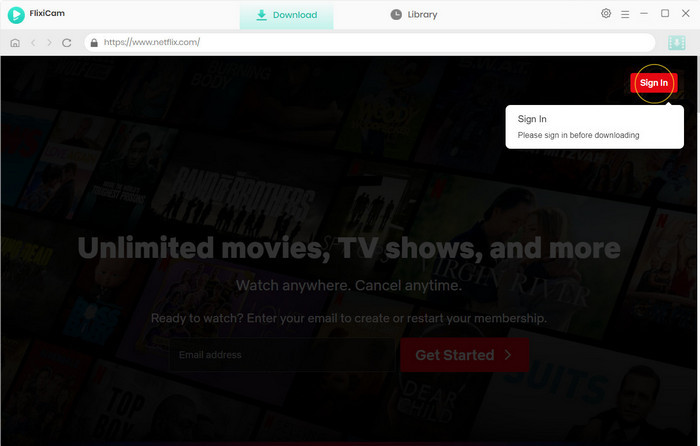 Step 2. Customize the Output Settings
Tap the Setting icon on the upper right corner. The settings window will pop up to allow you to customize the output format (MP4 or MKV), output quality (High, Medium, Low), output path, and so forth.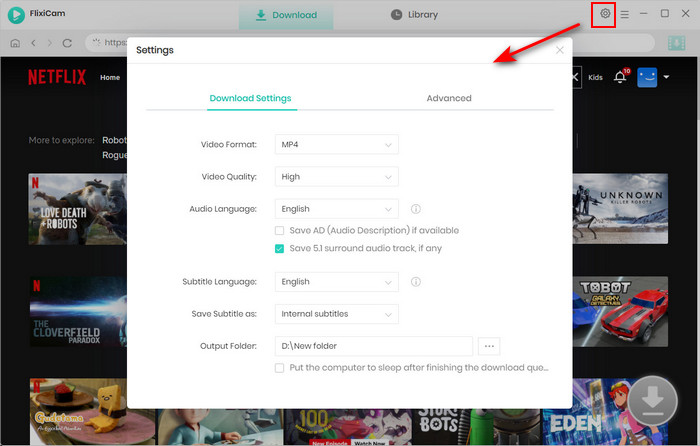 Step 3. Search Videos on FlixiCam
FlixiCam seamlessly connects with the Netflix website, making it effortless to search for videos. Simply enter the name of the video, and the program will compile a list of either that specific video or all the related videos.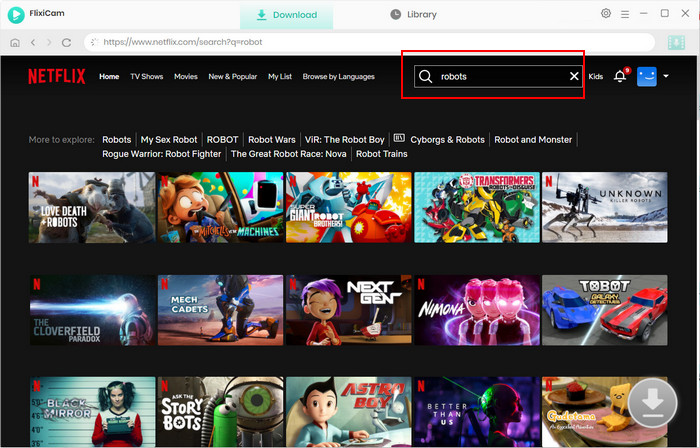 Step 4. Select Audio Track and Subtitle
Click on your preferred video to begin the download process. Observe how the gray Download icon at the bottom right changes to green. Tap on the green icon and you'll be presented with options to select the season, titles, video quality, audio track, and subtitles.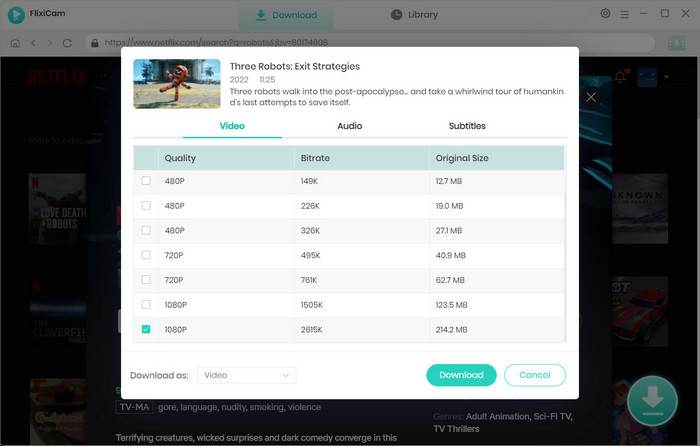 Step 5. Start to Download Netflix Videos
Now, hit the Download icon. After downloading, you can click on Library to find the well-downloaded Netflix videos on local drive. Now you can insert the USB stick into computer and move the downloaded videos to it.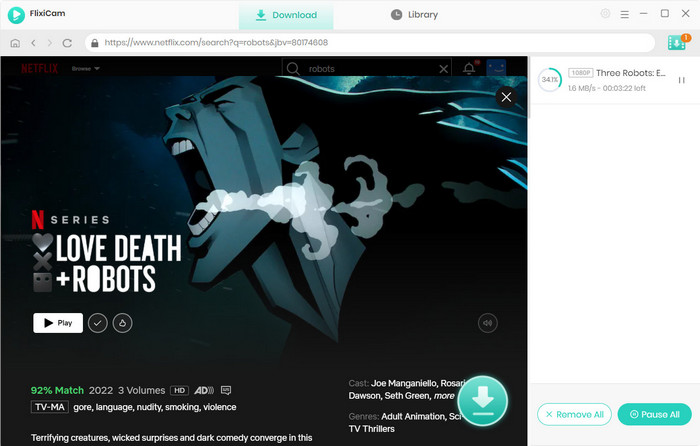 Besides, to save Netflix video to USB drive, you can also insert USB stick in advance, then set the USB drive as the output path and download videos to the drive directly.
Conclusion
Transferring downloaded Netflix videos to a USB drive is a practical solution to free up space on your computer and ensure smooth performance. While Netflix videos are stored in a proprietary format and initially seem impossible to transfer, using a reliable Netflix video downloader like FlixiCam makes the process effortless.
Say goodbye to storage limitations and sluggish performance on your computer. Follow the steps provided in this article to download your favorite Netflix videos using FlixiCam and easily transfer them to a USB drive for convenient storage and offline viewing.
---