Top 15 Christmas Movies on Netflix
Time flies and Christmas is coming! After a whole-year of hard work, it's time to get relaxed, chill at home, and watch some movies with your beloved. Here is a recommendation of 6 Netflix movies ranging from comedy to adventure, animation to live action. There's no obscure plot among these movies, just happiness, and relaxation. If you are looking for a movie that features a holiday spirit, read on and choose one to stream or download!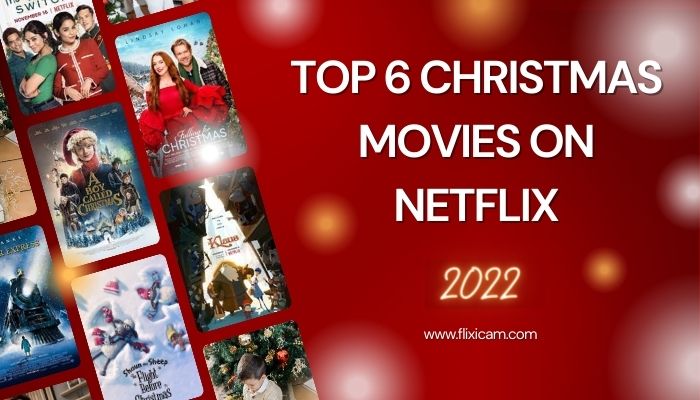 Let's take a look at a list of the 15 best Christmas movies on Netflix. Read on to know more.
Part 1. Top 15 Christmas Movies on Netflix
Here is the recommendation of 15 best Christmas movies on Netflix in 2023. Let's start.
1. Klaus (2019)
Sergio Pablos' holiday film, which received an Oscar nomination for best-animated feature, gives Santa a new origin narrative. It is about an introverted toymaker, voiced by J.K. Simmons, whose unexpected connection with a self-centered postman (Jason Schwartzman) results in a project: delivering toys to local children in the middle of the night. A bitterly divided Norwegian town in the nineteenth century ends up delighted by the act. The story tells us the truth that a simple act of kindness always sparks another one, even in the most frozen and distant place.
2. Falling For Christmas (2022)
This is a cheery, delightful movie that can make you feel the Christmas spirit. And it is also one of two Lindsay Lohan movies that will be available on Netflix exclusively for the following two years. The Lindsay Lohan comeback vehicle is about a hotel heiress who loses her memory because of a skiing accident and is taken into the care of a handsome lodge owner and his daughter as Christmas approaches. The movie is great for watching with your family on a cozy holiday.
3. The Princess Switch (2018)
The Princess Switch (Flim Series) is an American Christmas romantic comedy, including three feature films: The Princess Switch, The Princess Switch: Switched Again, and The Princess Switch 3: Romancing the Star. The Princess Switch trilogy was released exclusively as one of the must-watch Netflix Original Films during the holiday. Stacy DeNovo (Vanessa Hudgens) is an American pastry chef who enters a baking competition during the holiday in the fictional city of Belgravia. There, she meets Lady Margaret Delacourt (also Vanessa Hudgens) and is surprised that they look like twins. Then they swap identities and experience different lives, and realize that their interests are with each other's respective males after switching roles. A set of romance and adventure takes place while these two ladies switch places.
4. The Polar Express (2004)
This fantasy movie tells a story of a young kid who sees a mysterious train halt outside his window and is invited onboard by its conductor on Christmas Eve. The train is headed for the North Pole. The boy travels with a group of kids to visit Santa Claus as he gets ready for Christmas. Affected by his family, the kid is skeptical about the existence of Santa Claus at first, but after the adventure to the north pole, his belief becomes solid. Overall, this is an imaginative and creative CGI-animated film that full of Christmas spirit.
5. Shaun the Sheep: The Flight Before Christmas (2021)
Shaun the Sheep as a series designed for kids receives applause from adults as well. It is highly rated on some review sites, and it's absolutely a gem you can't miss. All it wants to do is make you laugh at Christmas. This 30-minute movie starts with Timmy going missing during a farmhouse raid to get larger stockings for the Flock. It has perfect pacing and wonderful animation, and it's perfect to watch with young and old.
6. A Boy Called Christmas (2021)
A Boy Called Christmas by Gil Kenan is best enjoyed on Christmas Eve. Young Nikolas (Henry Lawfull) travels north and tries to help his father win the prize when the king (Jim Broadbent) offers a reward in exchange for a sign of hope. And he ends up on an epic journey to an elf-inhabited city of magic with a reindeer and his pet mouse. It is about the roots of the Christmas gifts tradition. You will not only appreciate the beautiful snowy scenery, but also the charming music in this film.
7. The Christmas Chronicles (2018)
"The Christmas Chronicles" is a heartwarming and adventurous family film that captures the magic and joy of the holiday season. The story revolves around two siblings, Kate and Teddy Pierce, who embark on an unforgettable journey on Christmas Eve. Determined to catch Santa Claus in the act, they set up a series of elaborate traps but end up accidentally crashing Santa's sleigh instead. Faced with a mission to save Christmas, Kate and Teddy must join forces with Santa himself to deliver presents to every child around the world before sunrise. Along the way, they encounter thrilling escapades, learn the true meaning of Christmas, and rediscover the importance of family and belief.
8. A Christmas Prince (2017)
"A Christmas Prince" tells the story of an aspiring young journalist named Amber Moore. Amber is given the opportunity of a lifetime when she is sent to cover a press conference in Aldovia, a small European country. While there, she stumbles upon a scandalous secret about the country's royal family and decides to investigate further. In order to get closer to the story, she poses as a tutor for the young princess and begins to uncover more than she ever imagined. Along the way, she falls in love with the prince, and together they work to save the kingdom and restore peace.
9. How the Grinch Stole Christmas (2000)
"How the Grinch Stole Christmas" is based on the classic Dr. Seuss tale. Set in the whimsical town of Whoville, the story follows the grumpy and solitary Grinch, who despises the joyous spirit of Christmas. Determined to put an end to the festive celebrations, the Grinch hatches an elaborate plan to steal Christmas from the unsuspecting Whos. Disguising himself as Santa Claus, he sneaks into their homes and steals all the decorations, presents, and even the feast. However, his heart undergoes a profound transformation when he encounters Cindy Lou Who, a young girl who believes in the true meaning of Christmas. Through her kindness and innocence, the Grinch learns that Christmas is about love, togetherness, and the joy of giving.
10. Holiday in the Wild (2019)
The story of Holiday in the Wild revolves around Kate Conrad, a recently divorced woman who decides to embark on a solo trip to Zambia after her son leaves for college. Unexpectedly, she finds herself stranded in the wild and forms an unlikely bond with Derek Holliston, an elephant conservationist. As Kate immerses herself in the beauty of Africa and the heartwarming work being done to protect the elephants, she discovers a new passion for life and love. Along the way, Kate and Derek navigate through personal struggles, unexpected adventures, and a growing attraction.
11. A Christmas Prince: The Royal Wedding (2018)
"Christmas Prince: The Royal Wedding" is a captivating sequel that continues the enchanting love story of Amber Moore and Prince Richard of Aldovia. The film picks up one year after their engagement, as Amber prepares to marry her beloved prince and take on the responsibilities of royalty. However, as the wedding plans unfold, Amber faces unexpected challenges that threaten to disrupt their fairy-tale romance. With the pressure of public scrutiny, royal protocols, and doubt creeping into their relationship, Amber must make difficult decisions while staying true to herself and the love she shares with Richard.
12. The Knight Before Christmas (2019)
The story of "The Knight Before Christmas" follows Sir Cole, a medieval knight who is magically transported to present-day Ohio just before Christmas. Disoriented and confused, Sir Cole seeks the help of Brooke, a high school science teacher who takes him in. As they spend more time together, they develop a deep connection that goes beyond time and space. However, with Sir Cole's mission to complete his quest and return to his own time, they are faced with the dilemma of whether to follow their hearts or follow fate.
13. Jingle Jangle: A Christmas Journey (2020)
The film follows Jeronicus Jangle, a renowned toy inventor who loses his belief in himself and the magic of inventions after being betrayed by his apprentice. However, when his bright and curious granddaughter, Journey, comes to visit, she reignites his passion and embarks on a quest to restore joy and wonder back into their lives. With the help of a magical invention and a cast of lovable characters, they embark on a remarkable journey that reminds them, and audiences, of the power of love, family, and believing in oneself.
14. The Holiday Calendar (2018)
Abby Sutton is a talented but struggling photographer, and she receives an unusual advent calendar from her grandfather. To her surprise, the calendar starts predicting future events in her life with uncanny accuracy. As she navigates through the ups and downs of her career and love life, Abby begins to wonder if the calendar holds the key to unlocking her true happiness. With the support of her best friend Josh and the growing affection she shares with her childhood friend-turned-potential love interest, Ty, Abby embarks on a journey of self-discovery and learns to trust in the magic of new beginnings.
15. A Bad Moms Christmas (2017)
"A Bad Moms Christmas" is a hilarious and raucous comedy that follows three overworked and overstressed moms as they navigate the chaos of the holiday season. Amy, Carla, and Kiki find themselves overwhelmed by the added pressure of creating a perfect Christmas while dealing with their own mothers' unexpected visits. As tensions rise and traditions are challenged, the three moms rebel against societal expectations and embrace the true meaning of the holidays: family, love, and letting loose.
Bonus: Download Netflix Christmas Movies with FlixiCam
FlixiCam is a powerful tool designed for downloading Netflix movies and series quickly in MP4/MKV formats. With this program, you can save high-quality videos on your computer permanently. Moreover, FlixiCam supports 5.1 surround audio, providing an immersive audiovisual experience. You can keep the audio and subtitle tracks in multiple languages as well. Besides being a downloader, it also doubles up as a Netflix player, allowing users to watch their favorite content while downloading Christmas movies. After downloading, you will get long access to your downloads.
An impressive downloader that is well-designed to help Netflix users download Netflix movies, TV shows or more in MP4 or MKV format!

Learn more about FlixiCam >>
The way of using it is simple. Enter the name of the video in the search box. All related videos will be listed. To begin downloading Netflix movies, TV episodes, and other content, simply choose the video you want to download and hit the 'Download' icon.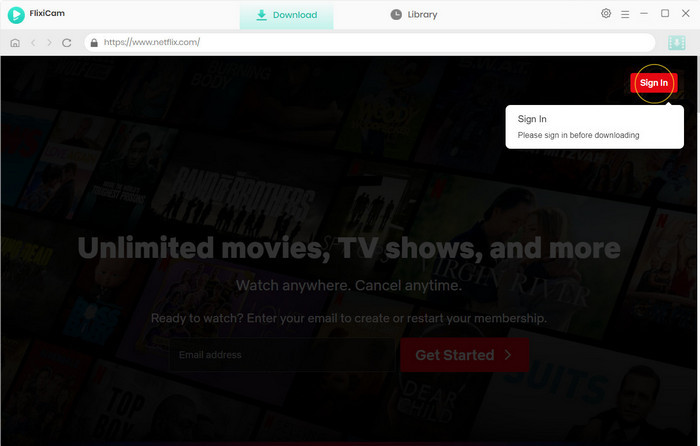 Conclusion
Hope this article is helpful to extend your watching list for Christmas. If you are a fan of one of these movies and want to save them to review every holiday, you can download them with FlixiCam so that your downloads could be saved forever on your local. You don't need to subscribe to the service month after month to stream these movies because of download limits. It's also feasible to download your favorite Netflix series with FlixiCam. 
If you want to get rid of these download limits, and binge watching all your favorite Netflix content, don't hesitate to try FlixiCam. 
---