Download Netflix's 10 Most Watched Series
Netflix has rounded up the ten most popular English TV series of last year. They are all well-made and popular, with themes ranging from romance to fantasy. What they have in common is that they are all innovative and free of clichés in traditional dramas. If you want to know if your favorite series made the list, read on and check. If you're curious about where last year's hit shows The Umbrella Academy, Stranger Things, and Wednesday ranked, scroll down to see how they performed.
This article also provides an easy method for downloading these series. If you are looking for a way to keep Netflix videos forever, you're hitting the right place. Read on to see official trailers, recap of these series and bonus for you.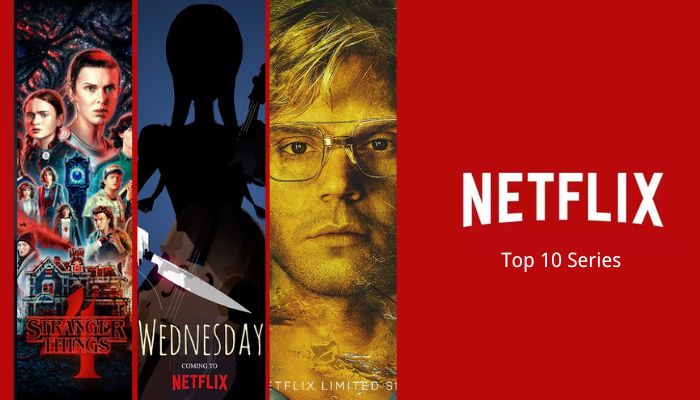 Let's look at top 10 Netflix series by viewership. To learn more, keep reading.
Part 1. Netflix's 10 Most Watched Series of 2022
The Netflix's 10 most popular series for 2022 are listed below. You can read the recap or directly watch the trailer on this page.
1.  Stranger Things (Season 4)
-19 weeks in top 10s
-Now sits at the global number 1 of all time with 1.35 billion hours in 28 days.
Hawkins, Indiana, a fictitious small town, is where Stranger Things takes place in the 1980s. The Hawkins National Laboratory purports to do scientific research for the United States Department of Energy, but in reality, it conducts covert paranormal and supernatural operations, some of which use human test subjects. The unaware citizens of Hawkins begin to experience catastrophic effects from the presence of the Upside Down. The importance of love has been emphasized even more in season 4, and you will be moved by the strength that explodes between lovers and friends when crisis comes. The cast's performances, especially those of Brown, Sink, Harbour, McLaughlin, Bower, and Quinn, were praised by critics, as were the visuals, action sequences, realistic themes, intense emotion, and the darker, more mature tone.
2. Wednesday
-5 weeks in global top 10s
-Now sits as the global number 2 of all time with 1.237 billion hours in 28 days.
Wednesday Addams serves as the main character for the American coming-of-age supernatural mystery comic horror television series "Wednesday." Jenna Ortega (Wednesday Addams) tosses live piranhas into the school pool as retaliation for the bullying of her brother Pugsley by the boys' water polo team. Following her expulsion from school, Wednesday Addams' parents enroll her at Nevermore Academy, where she discovers that she inherited her mother's psychic ability and successfully solves a local murder mystery. You will be surprised by Jenna Ortega's amazing acting skills, which make her a smart, unemotional, mean, and even scary girl. People who love murder mysteries will love this show and her incredible acting.
3. Dahmer – Monster: The Jeffrey Dahmer Story
-7 weeks in global top 10s
-Now sits as global number 3 of all time with 856,220,000 hours in 28 days.
One of America's most notorious serial killers, Jeffrey Dahmer, has a story that is partially recounted from the perspective of his victims. The television show explores the police negligence and indifference that permitted the Wisconsin native to engage in a multiyear killing rampage. It dramatizes numerous occasions when Dahmer was on the verge of being captured but was finally released. Dahmer was a well-dressed man who frequently received a pass from police officers and judges who were forgiving when he had been accused of crimes.
4. Bridgerton (Season 2)
-11 weeks in global top 10s
-Now sits as global number 4 of all time with 656,260,000 hours in 28 days.
At the start of season 2, the Sharma sisters, Kate (Simone Ashley) and Edwina (Charithra Chandran), arrive in Mayfair, and Edwina is looking for a spouse at the same time. Anthony is searching for a woman who will take care of the family home and be a decent mother instead of the true love. Edwina is pushed by Kate toward other suitors since she understands that Anthony is not the one her sister should select. However, love happens between the enemies: Kate and Anthony are constantly arguing, teasing, and yet drawn to one another despite their seeming hatred.
5. Inventing Anna
-10 weeks in global top 10s
-Now sits as global number 9 of all time with 511,920,000 hours in 28 days.
"Inventing Anna" is a real-life adaptation based on the story "How Anna Delvey Tricked New York's Party People" published by journalist Jessica Pressler in "New York Magazine". The character Anna in the series was born in Russia and raised in Germany, she uses Instagram to fake her identity -- a German heiress, fool the New York elite, and steal money from the upper society without having a penny. She was convicted guilty of 12 out of 15 felonies related to fraud, although the two most serious were thrown out. This series reflects a certain extent the phenomenon of money worship and materialism nowadays.
6. Ozark (Season 4)
-Season 4: Part 2 spent 8 weeks in global top 10s with 282,710,000 hours between January 16th and March 6th
The Byrdes and their children Charlotte and Jonah appear to be an ordinary family living an ordinary life. Except that Marty, a Chicago financial advisor, and husband/father, also acts as the second-largest drug cartel in Mexico's top money-launderer. From Chicago, this financial advisor brings his family to the Missouri Ozarks, where he must launder $500 million to placate a drug lord. To make the thriller more realistic and gripping, the Ozark's creator invited an FBI agent who specializes in financial crimes into the writing room. It is indeed loved by many people for its exquisite plot and tense atmosphere rendering. The fourth season's approval rating on Rotten Tomatoes is 86% based on 63 reviews, with an average rating of 7.9/10.
7. The Watcher
-5 weeks in global top 10s – 395,030,000 hours between October 9th and November 13th
A married couple is threatened by threatening letters from a stalker named "The Watcher" as they move into their dream house. The series is based on a 2018 article written by Reeves Wiedeman for New York's "The Cut," which detailed Derek and Maria Broaddus' experiences when they began receiving threatening letters in Westfield, New Jersey, in 2014, which continued until they sold the house in 2019. You'll be left in suspense till the very end because there were so many turns and twists. Performers Booby Cannavale, Naomi Watts, and Noma Dumezweni in this series all did a great job in their respective roles so you will enjoy their good acting.
8. The Sandman
-7 weeks in global top 10s – 393,140,000 hours between July 31st and September 18th
Based on Neil Gaiman's 1989–1996 DC Comics comic book of the same name, The Sandman is an American fantasy drama television series. One of the seven Endless and the personification of dreams, Morpheus, is photographed in a mystical ceremony in 1916. Dream escapes after being imprisoned for 106 years and embarks on a mission to bring peace to his domain, the Dreaming immediately. Based on 97 critic reviews, the review aggregator website Rotten Tomatoes recorded an approval rating of 87% and an average rating of 7.6/10. Three days after its premiere, The Sandman had 69.5 million hours of viewing and was the most-watched title on Netflix in the entire world. The program spent seven weeks in the top 10 lists across the world and was the eighth-most-watched English-language program on Netflix in 2022.
9. The Umbrella Academy (Season 3)
-5 weeks in global top 10s – 301,850,000 hours between June 19th and July 24th
The Umbrella Academy is an American more adult-themed superhero television series based on the comic book series of the same name. In 1989, 43 kids were mysteriously born to unconnected women who had not shown any pregnancy symptoms the day before. Billionaire businessman Sir Reginald Hargreaves adopted seven of them, established the Umbrella Academy, and trained his "children" to save the world. In Season 3, the Sparrow Academy, a different Hargreeves superhero group Reginald has adopted, has taken their place, as the siblings discover that their acts in the past have altered the course of history. Elements like Comedy, suspense, action, and drama are probably all elements that one could ask for in a fantastic program, which you can find in this series.
10. Virgin River (Season 4)
-6 weeks in global top 10s – 304,790,000 hours between July 17th and August 28th
Virgin River is an American romantic drama series based on Robyn Carr's bestselling book series. Virgin River, the Northern California utopia, is a small town where drug kingpins, murders, and kidnappings are all common. By season 3's end, the couple reconciles when Mel informs Jack that she is expecting a child, but he may not be the father because she visited her sister during their breakup and underwent IVF using the last of her and Mark (Mel's late husband)'s embryos. And Brady was arrested after the gun is discovered in his car, despite his continued insistence that he is innocent of shooting Jack. Season 4 is to answer this suspense. Don't miss this season if you are curious about this drama as well.
Bonus: Download Netflix Series with FlixiCam
With the aid of the advanced video downloader FlixiCam, you can download Netflix movies and television shows in MP4/MKV format in a rapid way. You can keep HD videos (up to 1080P) on your PC permanently. Additionally, this program offers 5.1 surround sound, ensuring a fantastic audiovisual experience. Moreover, if you want to save separate audio and subtitle tracks, the smart tool can also help you. More than ten languages are available for you to download to audio or subtitles (supported languages may differ for different videos).
An impressive downloader that is well-designed to help Netflix users download Netflix movies, TV shows or more in MP4 or MKV format!

Learn more about FlixiCam >>
Here is the method of downloading Netflix series with FlixiCam. Type the title of the video in the search bar, all related titles will pop out for selection. Simply select the Netflix video you want to download, press the Download button, and the program will start downloading for you.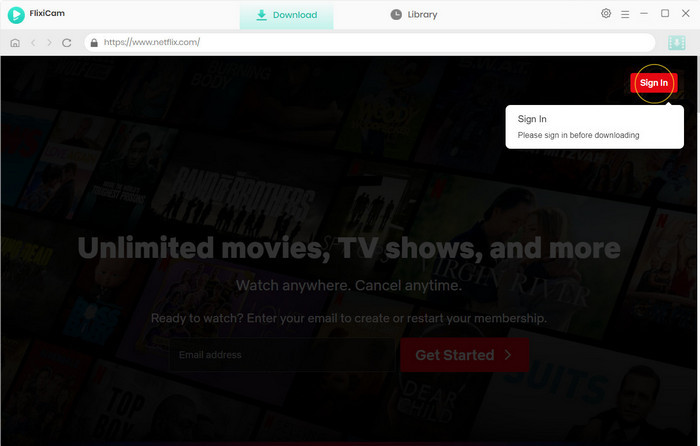 Conclusion
Are there any Netflix series that you love in 2022? I'm sure they've all been good times for you, and downloading them is definitely the best way to keep that happy memory in your mind. However, Netflix doesn't support saving your favorite videos forever, and the videos downloaded with the Netflix app will expire 48 hours after you watch them.
If you want to keep your Netflix videos permanently, try FlixiCam. There are no ads, no bundled services, or other hidden costs. This app will give you an outstanding download experience. Click the link below to start your free trial.  
---