How to Watch Netflix Video without Ads
Netflix has unveiled a new Basic with Ads subscription in order to meet the demands of an ever-growing customer base. This lower-cost plan allows subscribers to save money every month without sacrificing their access to engaging shows and movies. Subscribers can enjoy all the amazing original content that Netflix is known for, just with commercial interruptions. The ad-supported package is $6.99 per month, which is 30% less than the regular Basic plan without ads ($9.99 per month). In exchange for that lower price tag, subscribers will have to watch an average of five minutes of ads per hour that are set to play before and during videos. Ads will be 15 to 30 seconds in length.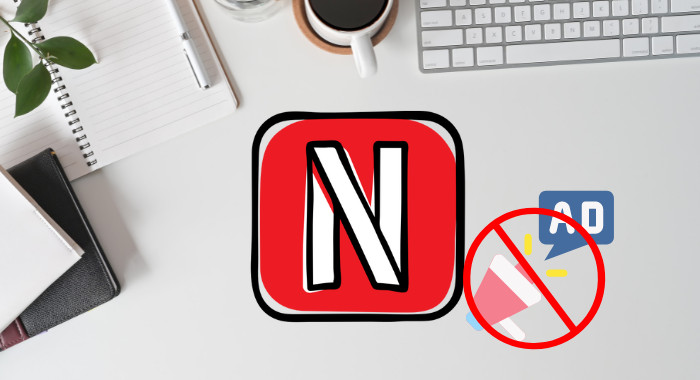 To watch Netflix videos without ads, the only way Netflix offers is to pay more and upgrade to an ad-free plan (Basic without ads, Standard, or Premium). Apart from that, you can also try some tools to download your favorite movies or shows from Netflix in plain format in order to get rid of ads. Read on, below we've explained exactly how to download and watch Netflix videos without ads.
Comparison between Basic with ads and other Netflix Plans
If you want to learn more about Netflix four subscription plans, here is the comparison in detail.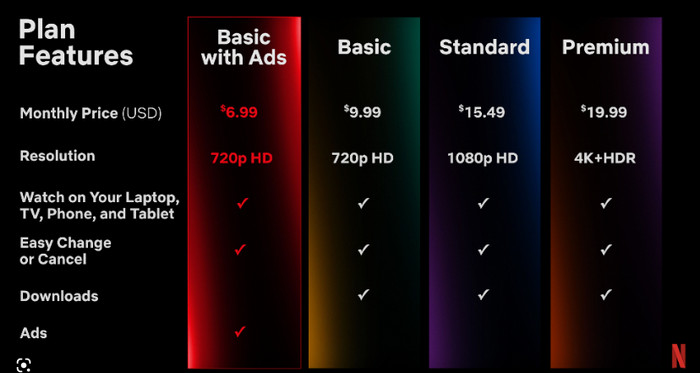 Best Tool to Download Netflix Video without Ads
FlixiCam Netflix Video Downloader is an incredibly useful software for anyone who loves to watch movies and TV shows on Netflix without ads. Instead of having to stream content in order to view it, this software allows users to download and save their favorite titles as high-quality MP4 or MKV files. Not only does this make watching content offline much more convenient, but it also makes it easier to store movies safely on personal devices. Additionally, FlixiCam offers a powerful search engine so users can easily find any title that catches their interest! All in all, the FlixiCam Netflix Video Downloader strikes an excellent balance between convenience and data protection for any avid Netflix viewer.
Tutorial on How to Save Netflix Movies without Ads
Next, we will show you how to download Netflix videos with FlixiCam in order to get rid of those ads. Please download FlixiCam program and follow the steps.
Note that, you can keep the downloads on your device forever, but since Netflix offers a maximum of 720P for Basic users, the video quality that you get by using FlixiCam is the same as that. If you are subscribing to Netflix Standard, and Premium, you can get video downloaded in 1080P.
Step 1. Run FlixiCam on PC and Log into Netflix Account
The first step is to log in with your Netflix account. Open the login window by entering any word in the search box and log into your Netflix account.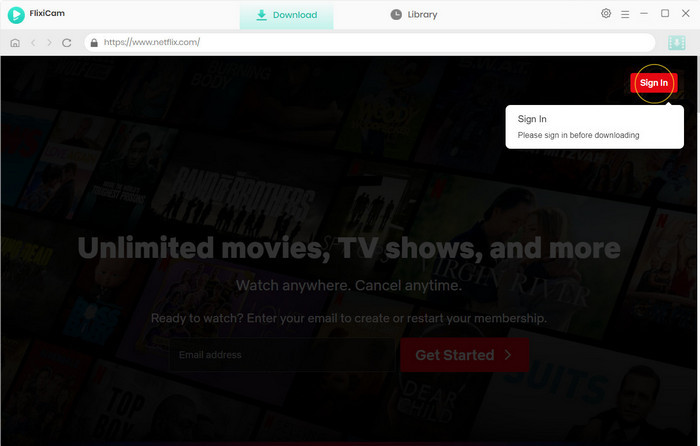 Step 2. Customize the Output Settings
On the top-right corner, you can find the Gear icon and open the Setting window, where you can choose output formats between MP4 and MKV, as well as the output quality. MP4 is the most popular format because it provides a good balance of quality and file size and will play on most devices. If you want to play your video on your PC, choose the highest quality option, which will take longer to finish and take up more space. Plus, you can also modify the output path, select your preferred audio tracks and subtitles, and more.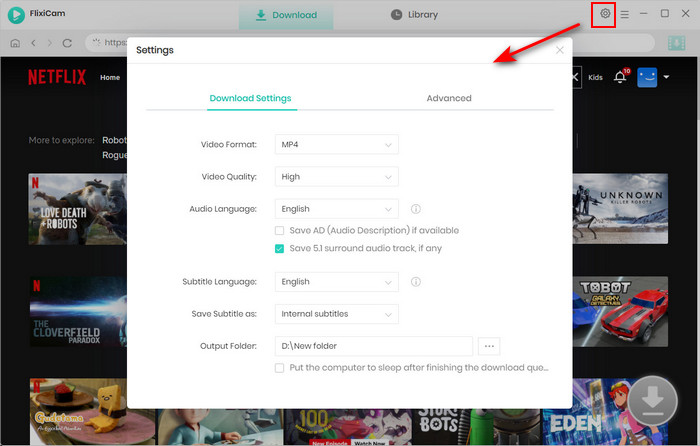 Step 3. Add Videos on FlixiCam
Copy the URL of the video you want to download from the address bar of Netflix website, then return to FlixiCam and enter the link in the search box. Finally, press the 'Enter' key on your keyboard, and the video will be listed soon. You can also search for videos using keywords.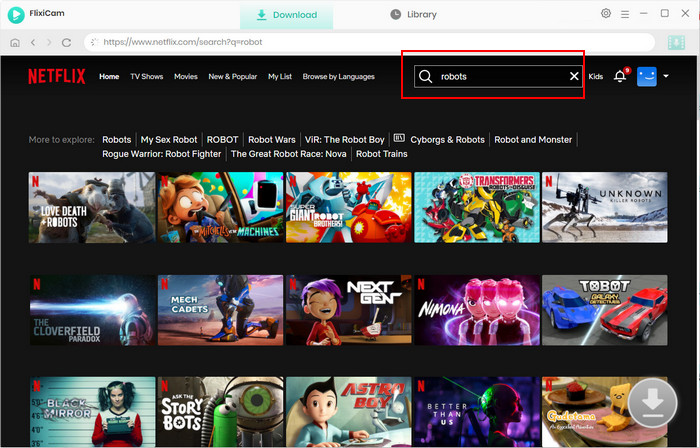 Step 4. Select Audio Track and Subtitle
Now please select the specific audio tracks and subtitles. If you are trying to download a TV show, simply click the Download icon, followed that a window will pop up allowing you to select titles as well as seasons, and to choose audio track and subtitles by clicking "Advanced Download" at the bottom left corner. If you try to download a movie, please click the "Advanced Download" icon beside "Download" to open the window.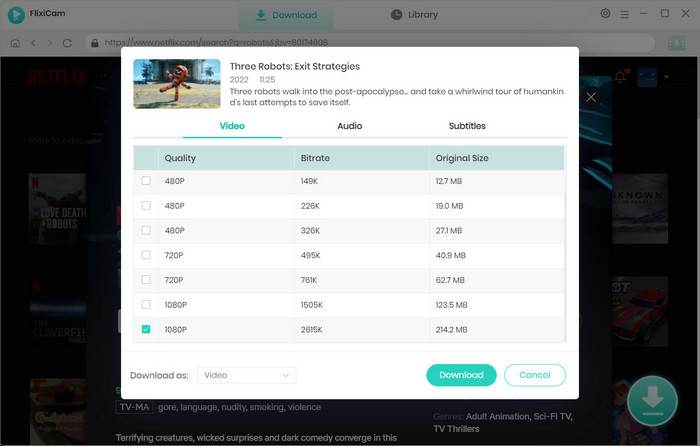 Step 5. Start to Download Netflix Videos
The last step is to hit "Download", the program will start downloading the Netflix videos. Once the video has finished downloading, you can find it in the destination folder, or click on Library to find them. All the downloads are ad-free.
Conclusion
With FlixiCam, viewers no longer need to endure frustrating long pauses and intrusive ads when they binge their favorite Netflix shows. All you need is a few quick clicks in the FlixiCam program and you can download your favorite video to computers and enjoy them without any ads. So if you hate being forced to sit through commercials every five minutes, just give FlixiCam a try.