The 10 Best K-Dramas and Korean Movies on Netflix
South Korea has emerged as a powerhouse in the entertainment industry, captivating audiences worldwide with its exceptional storytelling, unique concepts, and stellar performances. As a large library of films and TV series, Netflix has built up a sizable collection of top-notch Korean dramas and movies, many of which received praise and awards on a global scale. At the same time, Netflix has also continuously released original Korean movies and TV shows. This recommendation list aims to showcase ten must-watch Korean series and movies that have left an indelible mark on viewers.
With these ten Korean series and movies, you can immerse yourself in a world of diverse genres, exceptional performances, and captivating narratives, making for an unforgettable cinematic experience.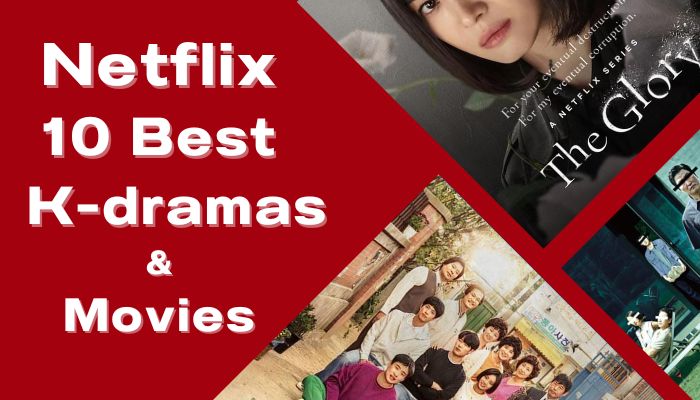 1. The 10 Best K-Dramas and Korean Movies on Netflix
1. The Glory (2022)
The Glory tells the story of a young aspiring architect who is forced to drop out of school due to harsh bullying. After careful planning over the years and by taking on the role of her bully's child's homeroom teacher, she later provides a path for retribution while her bullies continue to live happy and normal lives. The first season of The Glory sets up a revenge plot that Song Hye-kyo's character has carefully laid out while also offering us a preview of what is to come in the second season.
Cast: Song Hye-Kyo, Lee Do-Hyun, Lim Ji-Yeon, Park Sung-Hoon
2. Celebrity (2023)
A person can make a lot of money if they become well-known and well-liked on social media. Seo A-Ri (Park Gyu-Young) enters the world of influencers on social media. She takes risks that help her attract more supporters, which she may then use for her own benefit. She enjoys being a star, but she also runs into its darker aspects. It has outstanding performances from young actors with potential and dives deeply into the turbulent contemporary culture that none of us can escape.
Cast: Park Gyu-Young, Kang Min-Hyuk, Lee Chung-Ah, Lee Dong-Gun
3. Reply 1988 (2015-2016)
Rely 1988 is a South Korean drama series that aired from 2015 to 2016. Set in the year 1988, it revolves around the lives of five families living in the same Ssangmundong neighborhood of Seoul. The show beautifully portrays the essence of the time period, showcasing the cultural, social, and economic changes that took place in South Korea during that era. Rely 1988 is known for its heartwarming storytelling, relatable characters, and nostalgic portrayal of life in the late 80s. It tackles various themes such as family, friendship, love, and dreams, making it a beloved and critically acclaimed drama in Korean television history.
Cast: Lee Hye-ri, Ryu Jun-yeol, Go Kyung-pyo, Park Bo-gum, Lee Dong-hwi
4. Squid Game (2021)
Squid Game is a gripping South Korean survival drama series that has taken the world by storm. Set in a dystopian reality, the show follows a group of desperate individuals who participate in a deadly competition to win a massive cash prize. The contestants, all facing financial struggles, are pushed to their limits as they engage in a series of childhood games with deadly consequences. With each game becoming increasingly brutal and unforgiving, the stakes are high and the tension is palpable. Squid Game delves deep into themes of greed, desperation, and the lengths people will go to in order to survive.
Cast: Lee Jung-jae, Park Hae-soo, Wi Ha-joon, Jung Ho-yeon
5. Black knight (2023)
With Kim Woo-bin, Song Seung-heon, Kang Yoo-seok, and Esom as its main cast members, Black Knight is a 2023 South Korean streaming television series written and directed by Cho Ui-seok. Based on Lee Yun-kyun's webtoon of the same name, it shows a dystopian future in which severe air pollution has become a significant issue because a comet killed the majority of the globe and left survivors dependent on oxygen tanks and masks delivered by a Cadre of elite delivery drivers. One particular knight is 5-8. The toughest and most respected deliveryman is on a mission to overthrow the corrupt Cheonmyeong Group, which rules the ruined globe.
Cast: Kim Woo-bin, Song Seung-heon, Kang You-Seok
6. Crash Landing on You (2019)
Crash Landing on You is a heartwarming and captivating South Korean romantic drama series that has captured the hearts of viewers worldwide. The story revolves around a high-profile South Korean businesswoman who accidentally paraglides into North Korea during a storm and ends up crossing paths with a handsome North Korean army officer. As they navigate the dangerous political divide and cultural differences, a forbidden love blossoms between them. The series expertly blends romance, comedy, and suspense, providing a unique perspective on the complexities of the Korean Peninsula. Crash Landing on You captivates audiences with its stellar performances, engaging storyline, and beautiful portrayal of love transcending borders.
Cast: Hyun BinSon, Ye-jinSeo, Ji-hye
7. Parasite (2019)
"Parasite" is a groundbreaking South Korean film directed by Bong Joon-ho that captivated audiences worldwide. This dark comedy-thriller explores the striking contrast between two families from different socioeconomic backgrounds. The Kim family, living in poverty, cunningly infiltrates the wealthy Park family's household by securing employment. As they indulge in their newfound luxury, a series of unexpected events unfold, revealing the stark realities of social inequality and the lengths people will go to survive. With its intricate plot, exceptional performances, and thought-provoking commentary on class divisions, "Parasite" became the first South Korean film to win the Palme d'Or at the Cannes Film Festival and earned critical acclaim for its masterful storytelling.
Cast: Song Kang-hoLee, Sun-kyunCho, Yeo-jeong
8. Train to Busan (2016)
Train to Busan is a South Korean horror film that follows the story of a father and his young daughter who board a train from Seoul to Busan. Little do they know that a zombie outbreak has swept through the country, turning passengers into bloodthirsty creatures. The survivors must battle for their life and figure out how to get to their goal safely as chaos breaks out. This intense and thrilling film explores themes of sacrifice, humanity, and survival, delivering heart-pounding action sequences and emotional moments that make it standout in the zombie genre. Not only is Train to Busan one of the top Korean movies available on Netflix, but it's also quite probably the best zombie film ever made. Although Train to Busan doesn't veer too far from traditional zombie movie standards, its overarching story, character development, brilliantly written drama, thrilling action, and underlying societal commentary elevate it above the majority of contemporary works in the genre.
Cast: Gong Yoo, Jung Yu-miMa, Dong-seok
9. Okja (2017)
The Mirando Corporation is fixated on producing super pigs, which it then distributes to farmers all around the world to raise. Okja has been raised by Mija in the South Korean highlands for ten years; one day, Okja is named the "best super pig" by the company and is set to be transported to New York City. Devastated, Mija embarks on a mission to save her friend while exposing The Mirando Corporation's nefarious deeds. With actors like Tilda Swinton, Lily Collins, and Jake Gyllenhaal, this film has a strong ensemble cast. The film with stunning cinematography discusses corporate greed, animal rights, and the bond between humans and animals.
Cast: Ahn Seo-hyun, Byun Hee-bong, Tilda Swinton, Lily Collins
10. Kill Boksoon (2023)
This slick Korean thriller on Netflix centers on Bok-soon, a world-class assassin who manages her successful work with her private life as the mother of 15-year-old Jae-young (Kim Si-a). Bok-soon is played by Crash Course in Romance's Jeon Do-yeon. Bok-soon retires after spending decades at the top of Korea's covert hitman business in order to spend more time with her daughter. Her final task fails, though, and she finds herself in the sights of numerous of her former coworkers as well as her formerly dedicated employer Cha Min-kyu (Sul Kyung-gu).
Cast: Jeon Do-yeon, Esom, Si-ah Kim
2. Extra Tips to Save These Titles on Your Devices
Netflix may occasionally remove these great Netflix Korean TV series and movies, so downloading them for offline viewing is the best option. Never miss out FlixiCam if you want to download any Netflix series or movie. It is capable of downloading up to 1080p content from Netflix with multilingual audio tracks and subtitles kept. After downloading these titles in MP4/MKV, you can watch them on your devices anytime you want. It is also available if you want to transfer these downloads to other screens, such as screens on mobile phones, tablets, TVs, and even cars. This amazing tool is also best for Netflix subscribers who want to share Netflix videos with friends and family. You can use Teleparty for synchronizing Netflix videos with your friends, or just share videos by sending them.
An excellent Netflix downloader that supports downloading Netflix movies & shows with great speed!

Learn more about FlixiCam >>
Tips: FlixiCam needs to work with a valid Netflix account, so please do make sure your Netflix subscription is still within the validity period. Plus, please note that FlixiCam doesn't support to get 1080P video while working with Netflix's Basic and Basic with Ads plan.