Get Netflix FREE Subscription 2023: Reliance Jio and Airtel Offers
Netflix has also started to crack down on password sharing in India. Only members in the same household can share a Netflix account; otherwise, you must create a separate account, which raises the cost of your OTT subscription, especially since Netflix's pricing isn't exactly budget-friendly. However, the good news is that "Netflix and Chill" is available with Jio and Airtel's bundled plans.
Telecom providers like Reliance Jio and Airtel are offering a number of recharge options that combine calling and data benefits with free Netflix subscriptions, saving users from having to pay numerous bills for OTT channels. With these plans, You can watch your favorite episodes and movies on Netflix without having to pay extra for separate mobile recharge plans. In addition, you can enjoy benefits such as unlimited talking, data, SMS, and others. If you are seeking detailed messages of these plans, keep reading and check for the listicle.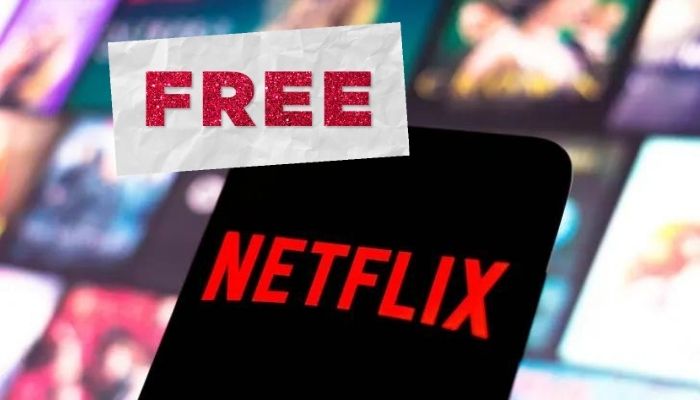 Part 1: Plans offered by Jio
Prepaid plans:
>> Prepaid plan of Rs 1,099 plan: This package includes 2GB of data per day, unlimited calls, and a free Netflix Mobile plan. It has an 84-day validity period.
>> Prepaid plan of Rs 1,499: Customers who purchase Jio's Rs 1,499 prepaid package receive 3GB of data per day, unlimited voice calls, and a free Netflix Basic plan with a validaty of 84 days.
To get more detailed information about Jio's prepaid plans, please visit here.
Jio Postpaid Plans
>> Postpaid plan of Rs 699: Customers who purchase the Rs 699 plan receive 100 GB of data per month, 5 GB of extra data for each of the three family sims, unlimited calls, and 100 SMS each day. Additionally, Netflix (Basic plan), Jio apps and Amazon Prime Video are both available freely.
>> Postpaid plan of Rs 1,499: Customers who purchase this plan receive 300GB of high-speed data, unlimited voice calls, and 100 SMS per day. Besides, Netflix (Mobile plan), Amazon Prime, and Jio apps are accessible for free. In some cities, benefits for international roaming are also provided.
To get more detailed information about Jio's postpaid plans, please visit here.
Part 2: Plans offered by Airtel
>> Postpaid package of Rs 1,199: Customers can get 100 SMS, 150GB of high-speed data, and unlimited calls with this plan. Access to Disney + Hotstar Mobile, Amazon Prime Video, and Netflix (Basic plan) are also included.
>> Postpaid package of Rs 1,499: A 200GB high-speed data plan, unlimited calls, 100 SMS per day, and free access to Netflix (Standard plan), Amazon Prime Video, and Disney+ Hotstar Mobile are all included in this package.
You can choose your Airtel plan from its official site.
Part 3: Netflix Plans in India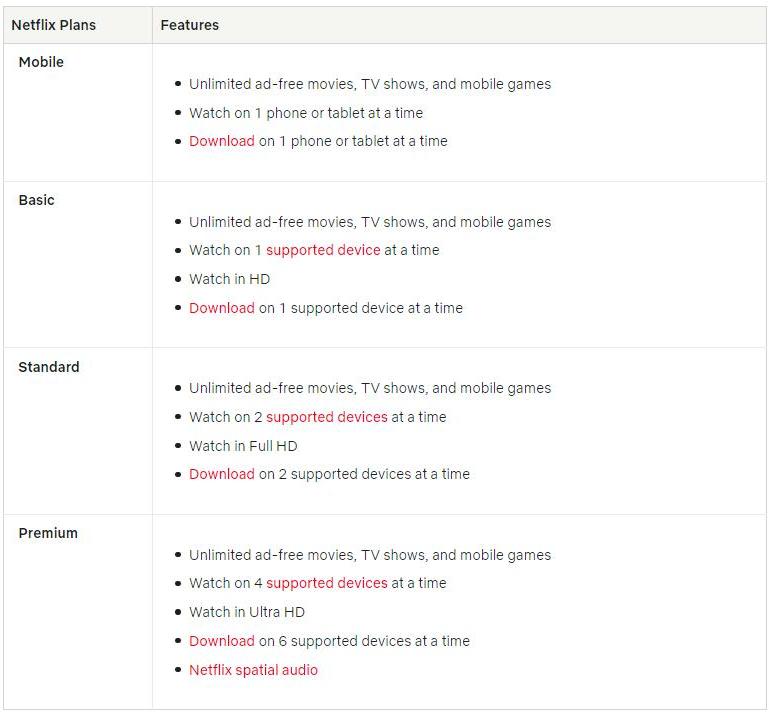 In India, Netflix offers 4 subscription plans: Mobile, Basic, Standard, and Premium plans. They cost Rs 149/month, 199/month, 499/month, and 649/month each if you purchase them by yourself. The Netflix plans included in the above plans from Jio and Airtel are different. You can choose them based on your needs for the Netflix plan, your monthly data needs, and your budget.
If you're considering giving the plans provided by Jio and Airtel a shot due to the enticing perks they offer, such as free access to Netflix movies and TV shows, and wish to uncover more advantages, then continue reading. The following tool can assist you in fully capitalizing on these advantages: saving your preferred Netflix titles for offline viewing so that you can continue accessing them even if you stop paying for your plan with Jio or Airtel.
Extra Tips: Save Netflix Titles Forever
Password sharing has been banned in India, so even if you can access Netflix, you won't be able to share your account with your friends elsewhere like you used to. However, are there alternative methods to share your beloved Netflix content with others? Indeed, and the solution is quite simple.
FlixiCam is the best solution for you if you want to share Netflix videos, or save Netflix titles forever. All videos will be saved in high definition (up to 1080p), MP4 or MKV format, with multi-lingual audio tracks in different languages. Additionally, after downloading them, you are free to watch them offline or transfer them to other devices.
Fully compatible with Windows 7, 8, 10, 11, and Mac computers, FlixiCam grants you the ability to watch Netflix offline anywhere anytime!

Learn more about FlixiCam >>
Please follow the following procedures to download Netflix video with FlixiCam.
Tutorial: How to Download Netflix Video on Your Computer
Step 1. Run FlixiCam
The first thing to do is logging into your Netflix account. Any word you type into the search field will bring up a window asking you to log into your Netflix account.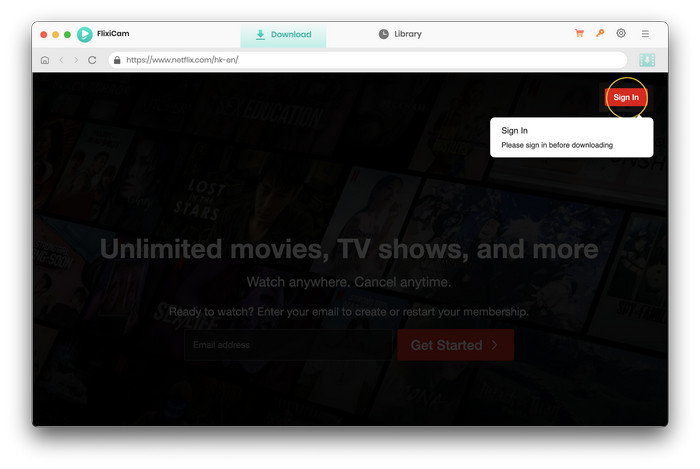 Step 2. Customize Download Settings
In the top right corner, click the Setting button. You can select the output path, audio and subtitle languages, output quality (High, Medium, Low), video output format (MP4 or MKV), and other options.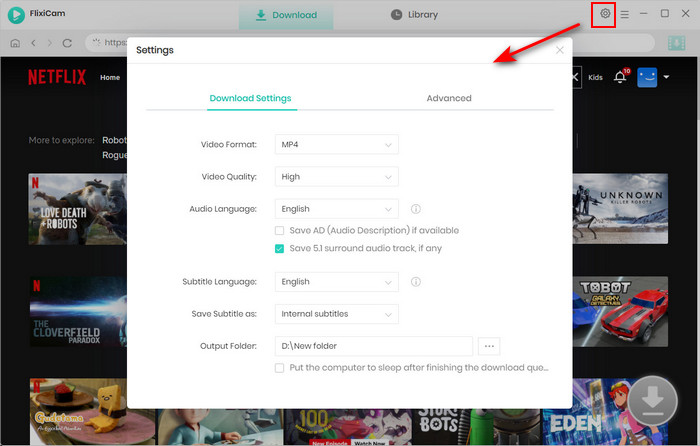 Step 3. Search Videos on FlixiCam
The video you want to download can be found in two different ways. You can type the video's name into FlixiCam or copy and paste the video's URL from the Netflix Web Player. The app will then display a list of the video or all of the associated videos.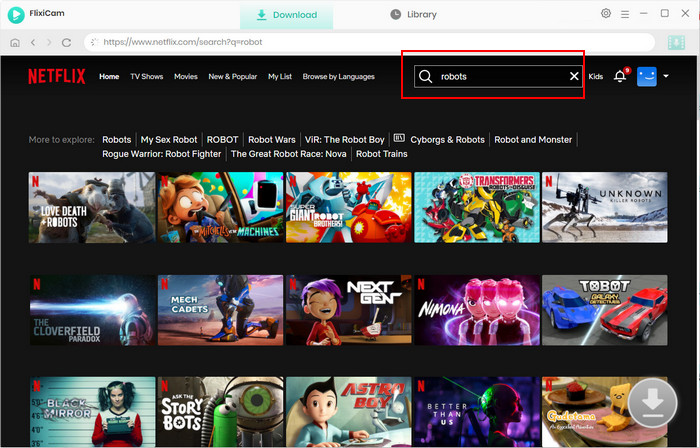 Step 4. Select Audio Track and Subtitle
You can choose the audio track and subtitle for particular videos here.
Simply click the Download icon to start downloading a TV show. A window will then appear where you can choose the seasons and episodes. The "Advanced Download" icon is located in the bottom left corner. By clicking it, you can also select the audio track and subtitles.
Please click the Advanced Download button next to the Download symbol to open the Advanced Settings box if you want to download a movie.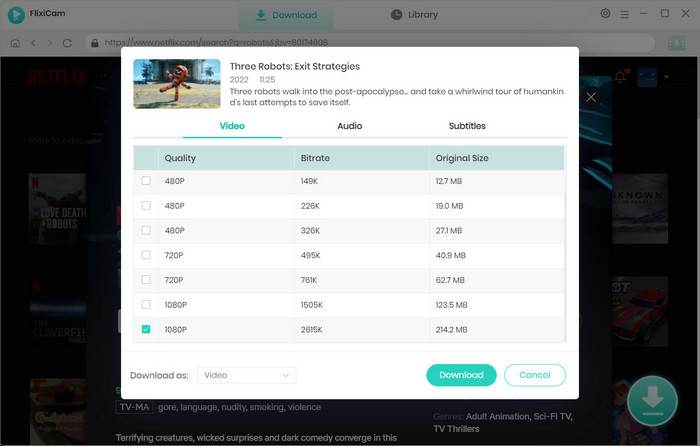 Step 5. Start to Download Netflix Videos
Just hit the Download button to begin downloading the Netflix titles you've selected. You can click on Library to find the downloaded files after the download is finished.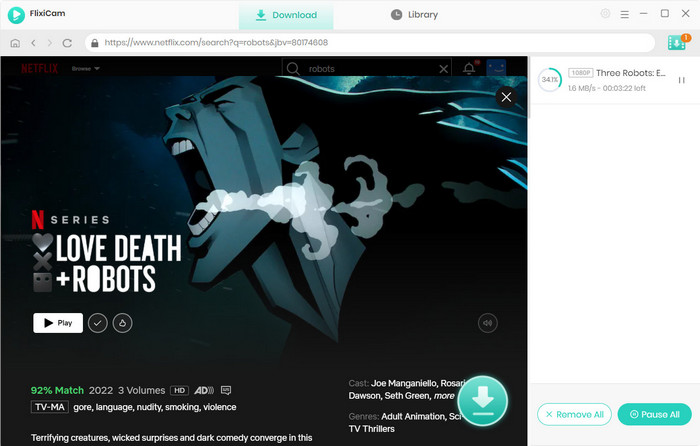 Now you can enjoy the downloaded Netflix videos without concern for subscription expiration. For sharing Netflix with your friends, you can use Teleparty, a tool that allows you to synchronize Netflix content. 
Conclusion
If you want to get a Netflix subscription for free, the method proposed in this article is an option worth considering. However, if you think this method is not so cost-effective, or when you want to cancel the subscription plan of Jio and Airtel, FlixiCam can help you maximize the existing benefits because it is able to keep your downloaded Netflix videos accessible permanently.