The Ultimate Guide to Download Netflix Video from Google Chrome
Any streaming service has some hidden downsides, Netflix is no exception. For example, you don't get to keep anything after watching it online, the video quality is limited by the bandwidth available to you at any given moment, and the watch process will be not that smooth if you have a poor connection. No matter what your reasons may be, many users tend to download the content from Netflix to devices for watching without internet connection and saving bandwidth. The offline feature provided by Netflix, however, is not available on all devices. You can check the support list here:How to download titles to watch offline.
Here some may wonder: is there any way to download Netflix videos from Google Chrome? How can we get around the Netflix app and directly download content from web browser? Absolutely, this guide will show you how you can download Netflix movies and shows from Google Chrome onto your computer. It involves using a third-party app so that you can download videos. Once you've done that, you can keep the download forever and watch them anywhere anytime.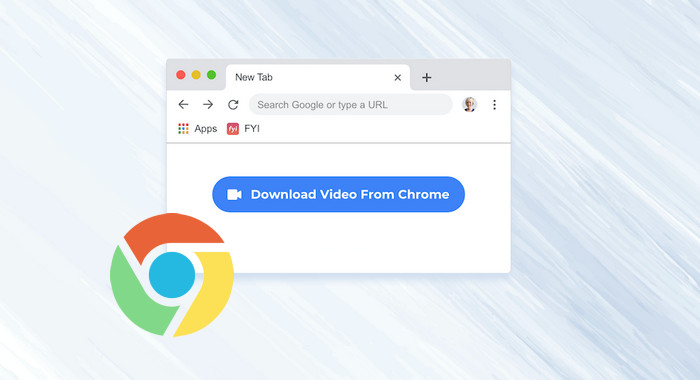 Tool Required: Netflix Video Downloader
The magic tool we are talking about above is FlixiCam. It is an outstanding Netflix video downloader that can be relied upon to download all Netflix videos to Windows 10/8/7 computers as either HD MP4 or MKV files. Plus, it requires no additional apps to be installed - not even the Netflix app itself. Simply open the program, copy and paste the link from the Netflix web player on Google Chrome to FlixiCam, and the app will recognize it instantly and provide you with a Download option. It allows you to select and download audio tracks (5.1 audio is included) and subtitles in different languages, which is a wonderful feature for language learners. Once downloaded, you can watch them offline on all your devices.
Play Netflix downloads on more devices anytime with the help of the most powerful Netflix downloader!

Learn more about FlixiCam >>
Next, let's follow the detailed tutorial to download Netflix video from Google Chrome with FlixiCam. Please download FlixiCam program first before getting started. Note: the tutorial also applies to other browsers including Firefox.
Tutorial: How to Download Netflix Video from Chrome?
Step 1. Run FlixiCam on PC and Log into Netflix Account
Open FlixiCam and you are required to sign in with your Netflix account to make it work. Simply enter any word in the search box, you will be greeted by an interface that looks like as below. Please enter your account info.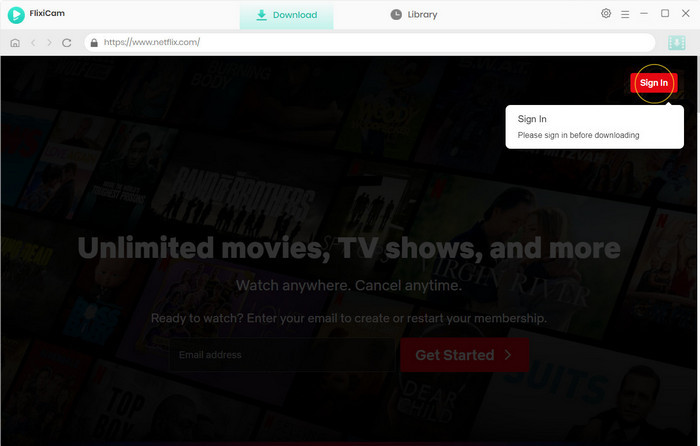 Step 2. Customize the Output Settings
Now, please go to the General settings window by hitting the Gear icon on the top-right corner to select output settings. Here you can change the output format (MP4 or MKV). Most prefer MP4 for videos, because it gives a good balance of quality and file size – and will play on basically every device.
Then, choose your quality (High, Medium, Low), change the output path, and choose your desired audio tracks and subtitles. And select the video codec between H.265 and H.264 in the Advanced tab.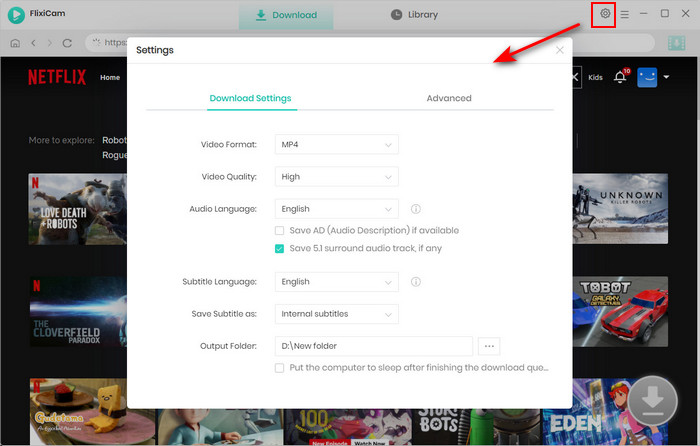 Step 3. Add Videos on FlixiCam
Open Netflix web player on Google Chrome, find the video you want to download and copy its URL from the address bar. Then return to FlixiCam and enter the link to the search box. The program will list the video and the download option soon. Also, you can search for videos by using keywords.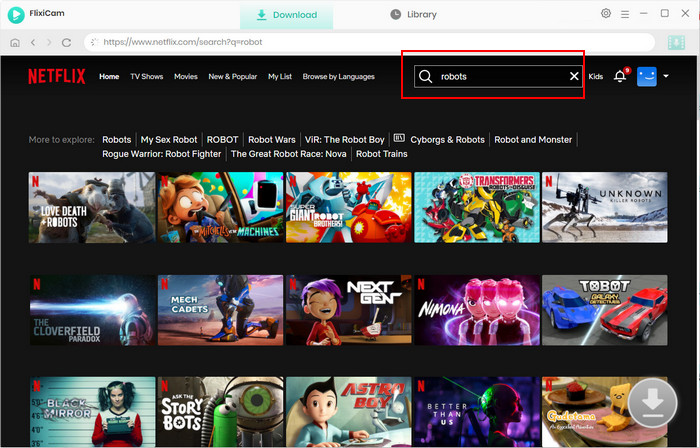 Step 4. Select Audio Track and Subtitle
The most important step is to select the specific audio tracks and subtitles. If you are trying to download a TV show, simply click the Download icon, followed that a window will pop up allowing you to select titles as well as seasons, and to choose audio track and subtitles by clicking "Advanced Download" at the bottom left corner. If you try to download a movie, please click the "Advanced Download" icon beside "Download" to open the window.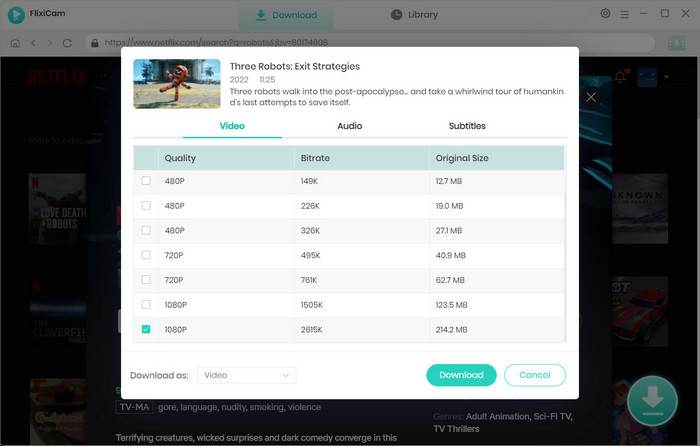 Step 5. Start to Download Netflix Videos
Finally, click the "Download" icon. Once the video is downloaded, you can find it in the destination folder, or click on Library to find the well-downloaded Netflix video on local drive. Now, you can feel free to enjoy them.
Conclusion
If you're looking for an easy way to download Netflix videos from Google Chrome, we recommend using FlixiCam. It's a quick and easy solution that doesn't require any additional apps or plugins installed. Simply head to the Netflix website and copy the URL of the video you want to download and paste it to FlixiCam, then you will be given a download option. All the downloads will be saved in MP4 or MKV format, meaning that they will be transferrable and playable on the majority of devices. Give it a try today!