How to Download Amazon Videos on PC to Watch Offline [Two Methods]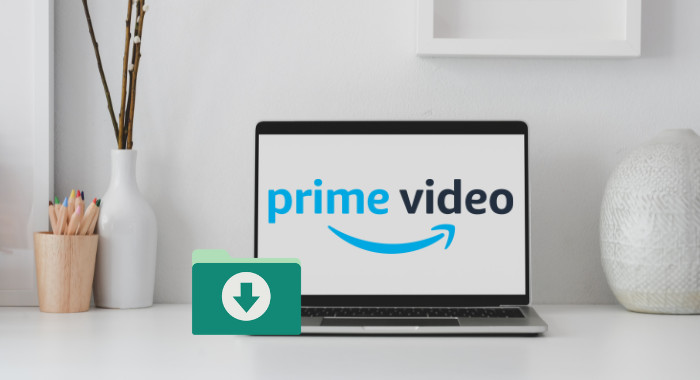 If you're an Amazon Prime member, then you know that you have access to a huge library of movies and TV shows to watch online or offline. In the following text, we'll show you how to download Amazon videos to watch offline on your PC. We'll also provide some tips on how to keep your favorite Amazon titles on your devices forever for your needs. Happy watching!
Method One: Download Amazon Video via Prime Video App
Assuming you have an Amazon account and have already installed the Prime Video app on your computer, follow the steps below to download a video:
Step 1. Open the Amazon Video app and sign in with your Amazon account.
Step 2. Find the video you want to download. You can browse by title, genre, or other criteria.
Step 3. For movies, please go to the details page and click the Downloads icon (it looks like a down arrow). For TV shows, to download the entire season, click the Download Season icon. To download individual episodes, select the Download icon on the list of the episode.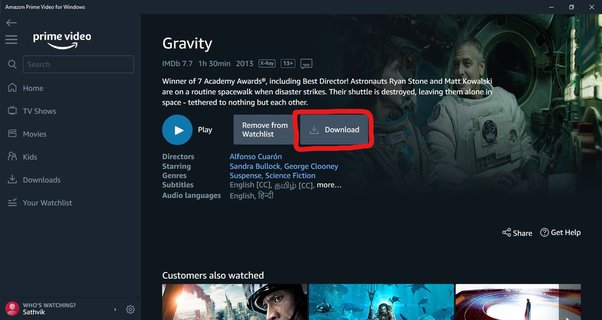 When it's done, you can watch the offline video by clicking Downloads, this is where you go to delete them as well. Keep in mind that you'll need to be connected to the Internet to purchase or rent videos, but once they're downloaded you can view them offline. Also, downloaded videos expire 48 hours after you start watching them or 24 hours after they're added to your offline collection (whichever comes first). Worse yet, you will no longer be able to access them once they leave Amazon or your subscription is over.
Method Two: Download Amazon Video with TuneBoto
TuneBoto Amazon Video Downloader is an excellent solution for bypassing Amazon's download limits and preserving your favorite titles indefinitely. This user-friendly application enables you to download any movie, show, or documentary from Amazon in either MP4 or MKV format, maintaining high-definition quality (up to 1080P). Additionally, it offers a range of choices for audio tracks and subtitles, allowing you to select the ones that best suit your preferences.
Download Amazon videos in MP4 or MKV.
Keep multilingual audio tracks and subtitles.
Download 5.1 surround audio.
Save subtitles in SRT format.
Works on Windows and Mac computer.
No need to install any extra plugins.
Tutorial: How to Download Amazon Videos with TuneBoto
The application comes with a straightforward interface that makes it easy even for novices to download Amazon videos. Please simply download TuneBoto and follow the steps to download videos on PC to watch offline.
Step 1. Sign in with Amazon Prime
Begin by selecting the region corresponding to your Amazon account. Choose "amazon.com" for the United States, "amazon.de" for Germany, "amazon.co.jp" for Japan, "amazon.co.uk" for the United Kingdom, and "primevideo.com" for France, India, Canada, and other regions. Then, click "Sign In" to access your Amazon account.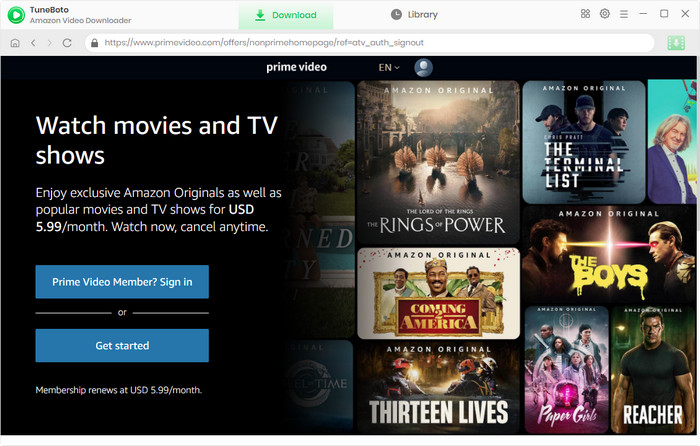 Step 2. Adjust the Output Settings
Navigate to the general settings window by clicking the gear icon located at the top right corner. Here, you can customize the output format, modify the output path, and select your preferred audio and subtitle languages.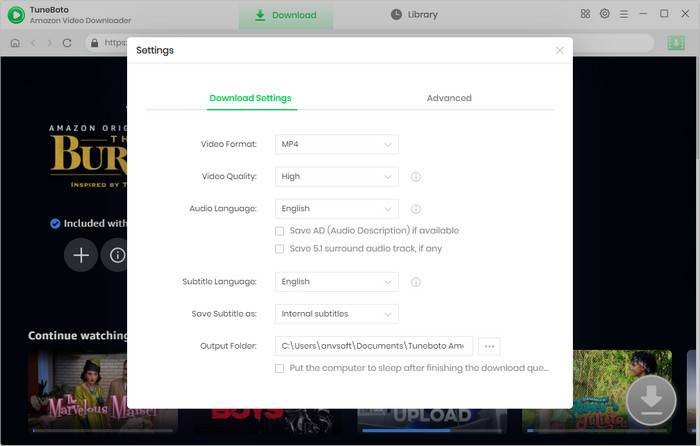 Step 3. Search Amazon Videos
Simply enter the video title into the search box, and the program will promptly display available download options.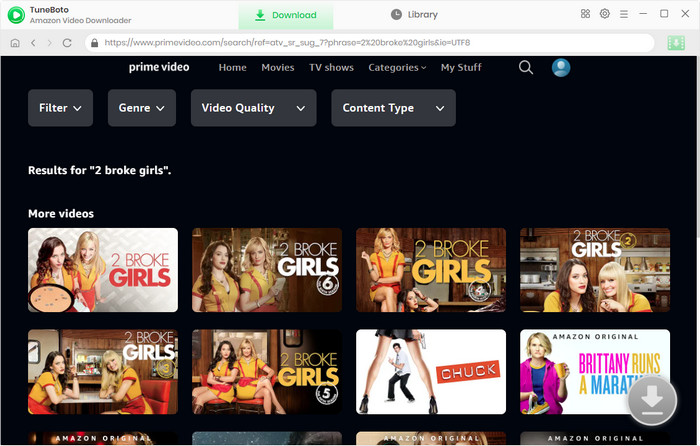 Step 4. Select Audio Track and Subtitle
There is an Advanced Download option that enables you to download videos in different quality options, and save audio tracks and subtitles in different languages. If you try to download a movie, please click the green Download directly. If you are trying to download a TV show, hit the Download icon first to select titles as well as seasons, and then tap on Advanced Download" in the bottom left corner to access it.
Step 5. Start to Download Amazon Videos
Finally, hit the Download button, the program will start downloading the videos. Once completed, you can click on Library to find them.
Conclusion
Amazon has made it easy for us to purchase and watch videos, but what about when we're not connected to the internet? The guide we've outlined makes it simple for you to download Amazon videos on your PC so that you can watch them offline. Have fun watching your favorite shows and movies offline! If you have any questions or run into any problems, please don't hesitate to reach out to us for help. Thanks for reading!
---
Related Articles