How to Add PIN Code to Protect Netflix Account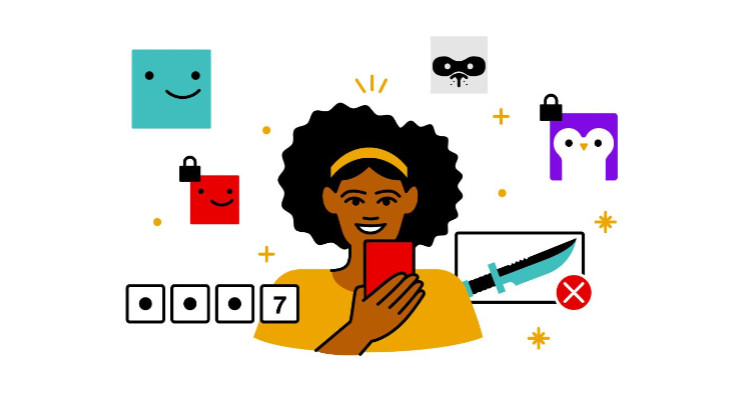 Netflix is a leading streaming service in the world, boasting a wide range of TV shows, movies, anime, documentaries, etc on devices that can be accessed through the internet. Simply pay $9.99 per month, you can stream all of them online and offline. Each Netflix account can add up to five distinct profiles. Each profile is geared toward the individual and offers TV and movie recommendations based on viewing habits.
If you share your account with your family and don't want your kids to watch content rated above their selected maturity level, or simply want to prevent someone else on your account from messing with your Netflix recommendations and viewing history, then it's time to add a PIN code to your profile. The PIN code feature was announced as part of the service's updated parental controls for helping users lock their profiles, to protect their profiles from other people, especially their kids, trying to view their Netflix content. The following part is more information about how to lock and unlock a Netflix profile.
Tutorial: Add or Remove PIN Code on Netflix
Step 1. Sign into Netflix with a web browser and choose your profile, then click the inverted-triangle icon on the upper-right corner and choose "Account". Please note that the account settings can't be changed from the Netflix app on your phone or TV.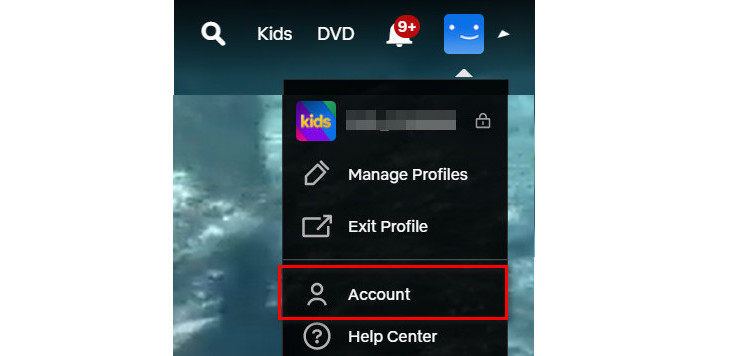 Step 2. Scroll down to the Profile & Parental Controls section, and select the profile you want to add Pin code, then please click the arrow next to your profile icon to expand this area.
Step 3. You should see the Profile Lock setting. Click on the Change button.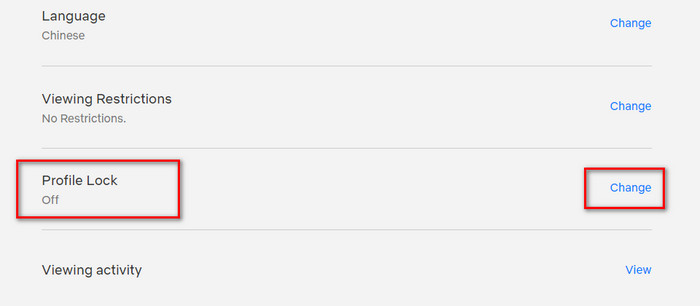 Step 4. To make sure you're the account owner, Netflix will ask for your password. After that, you'll see a screen where you can click "Require a PIN to access XXX's profile" and enter your chosen PIN. If you want to remove the Pin code, simply uncheck the box.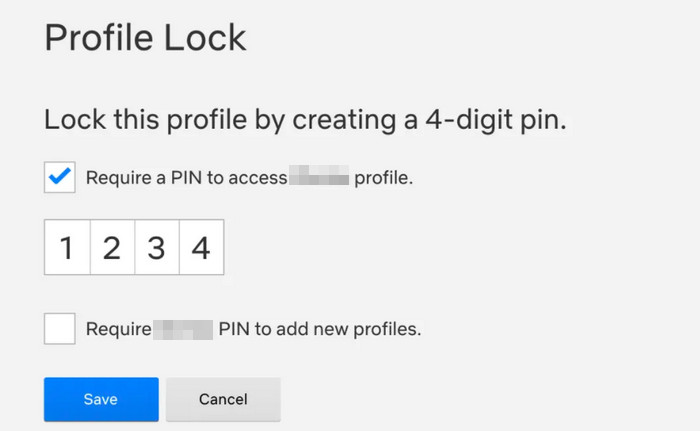 You can also check a box here so that your PIN is required whenever someone attempts to add a new user profile to your account. Once your PIN is set, your device may require a refresh to pick up the updated settings. To refresh, please switch to another profile, then switch back, Or, sign out of your device and sign back in. Furthermore, after adding a PIN code, Netflix will ask for it whenever that profile is chosen on the welcome screen. This will happen on all devices, including TVs. Any profile on your Netflix account can be given its own PIN, but only the account holder can set them up.
Tutorial: Keep Netflix Downloads Forever
As known, the download content on Netflix is time-limited. If you are seeking a way to keep those content on your devices forever, FlixiCam can give you a hand. It is a professional Netflix video downloader dedicated to downloading movies, shows, documentaries from Netflix in MP4 or MKV format on Windows and Mac computers. Below is how it works. You can also download the program and have a try:
Step 1. Sign in with Netflix Account
First, please open FlixiCam and log into your Netflix account by entering any word in the search box to open the Netflix login window.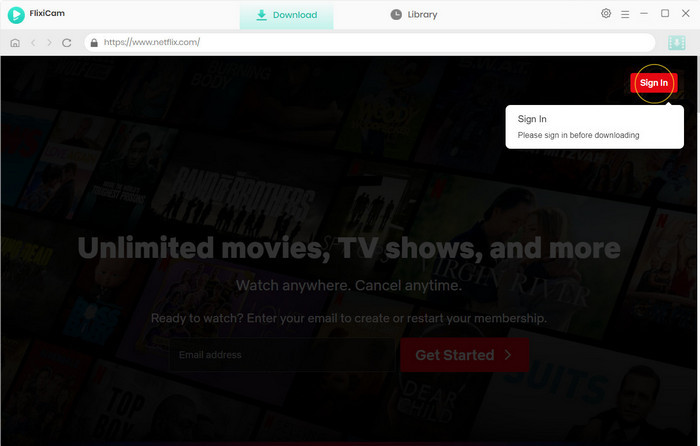 Step 2. Customize the Output Settings
Tap on the setting icon on the top-right corner to access the setting window. There you can customize the output format (MP4 or MKV), output quality (High, Medium, Low), output path, and more.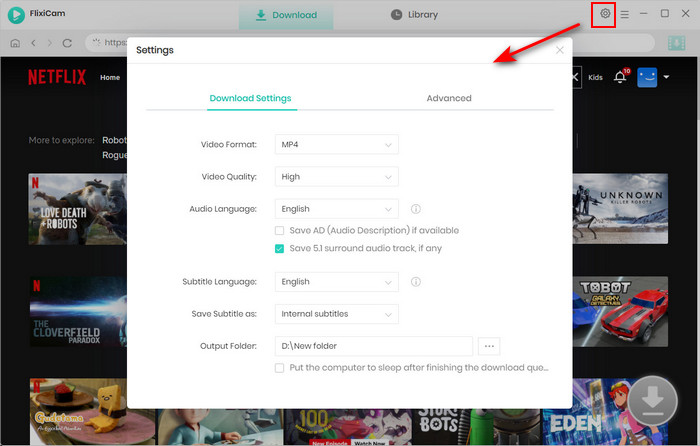 Step 3. Search Videos on FlixiCam
You can add a video by entering the video's name or copying and pasting the link of videos from Netflix's official site to FlixiCam. After entering, simply press "Enter" button on your keyboard, the program will list the video or all of the related videos for your choice. You are able to download one video or a whole season.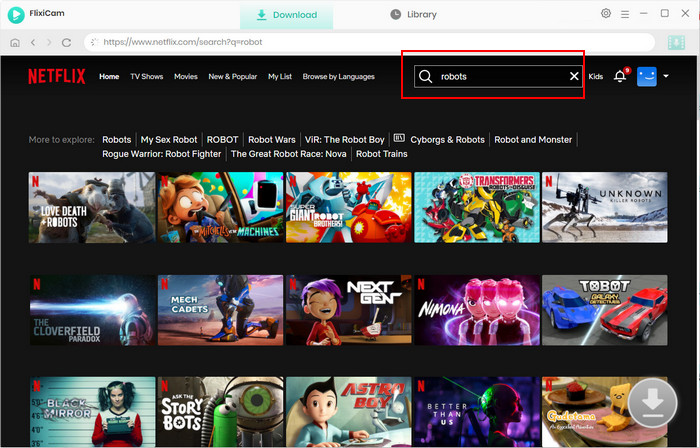 Step 4. Select Audio Track and Subtitle
Now, please go to the advanced download window to select the audio track and subtitle as needed. For downloading a TV show, please click the Download icon, a window will pop up that allows you to select titles as well as seasons, and to choose audio track and subtitles by clicking "Advanced Download" in the bottom left corner. If you try to download a movie, please click the "Advanced Download" icon beside "Download" to open the window.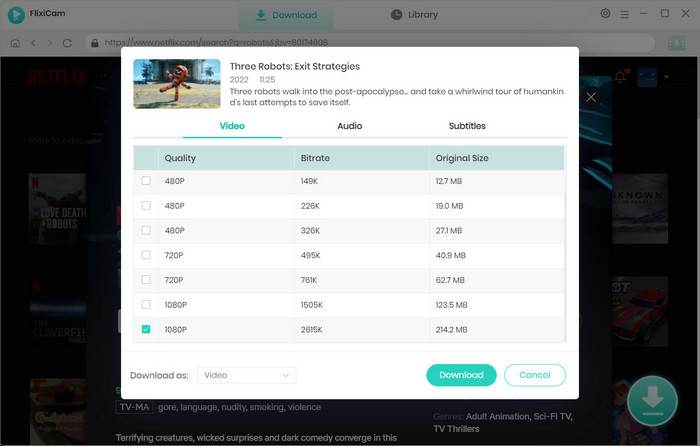 Step 5. Download Netflix Videos
Finally, please tap on the Download button, the program will start downloading the Netflix videos. Once done, you can click on Library to find the well-downloaded Netflix videos. Now you can save them on your computer and transfer them to any device for binge-watching them as needed.
Conclusion
For any other tips about how to stream Netflix more smoothly, please go to the Guide Center. The smart downloader - FlixiCam can help you download Netflix videos and watch them offline on more devices. If you have any interest in that, simply give it a shot!