Where to Watch and Download All Quiet on the Western Front (HD 1080P)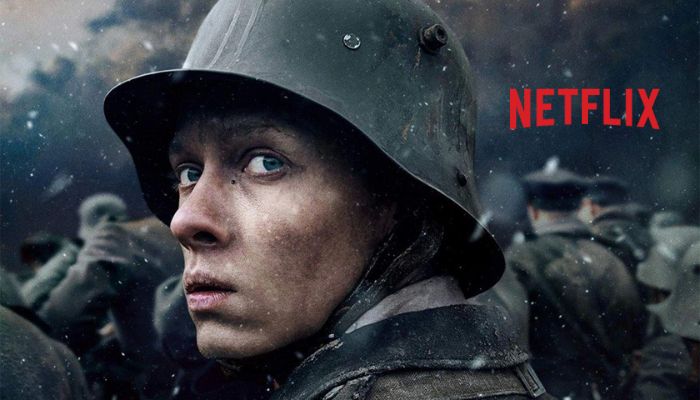 The antiwar film All Quiet on the Western Front has won four Oscars awards for Best International Feature, Best Cinematography, Best Original Score, and Best Production Design on nine nominations. It also becomes the most-awarded foreign language film tying Fanny and Alexander, Crouching Tiger, Hidden Dragon, and Parasite. The movie is based on Erich Maria Remarque's 1929 novel of the same name, and is available on the streaming service Netflix.
Synopsis
It follows the frightening experiences and despair of a young German soldier named Paul Bäumer on the Western Front in World War I. Bäumer's early dreams of being a hero are shattered as he struggles to live after joining the German Army with his buddies and is exposed to the harsh reality of war.
Positive reviews of the film were given by critics, who praised its tone and fidelity to the anti-war message of the source material.
What Do You Need to Watch and Download All Quiet on the Western Front
You can download All Quiet on the Western Front or any other Netflix movie or series in MP4 or MKV format from the expert Netflix video downloader: FlixiCam. This third-party tool will ensure you have the best watching experience since you can download Netflix content in high quality (up to 1080p). After downloading Netflix videos on your device, you can enjoy them whenever and wherever you want, or transfer the videos to other devices for offline watching on multiple screens. Moreover, you can preserve audio tracks with Dolby 5.1 surround sound, and you can choose subtitle languages from up to 30 different languages. Both Windows and Mac users can use FlixiCam on their computers, and it's free to enjoy customer service and updates.
An excellent Netflix downloader that supports downloading Netflix movies & shows with great speed!

Learn more about FlixiCam >>
Tips: FlixiCam needs to work with a valid Netflix account, so please do make sure your Netflix subscription is still within the validity period. Plus, please note that FlixiCam doesn't support to get 1080P video while working with Netflix's Basic and Basic with Ads plan.
Tutorial: Download All Quiet on the Western Front with FlixiCam
Please follow the steps below and learn how to download All Quiet on the Western Front full movie. Please download FlixiCam and follow the tutorial below.
Step 1. Open FlixiCam and Log into Netflix Account
Click the link forward to download FlixiCam on your computer. And you need to log into your Netflix account by clicking "Sign In" to activate the login window.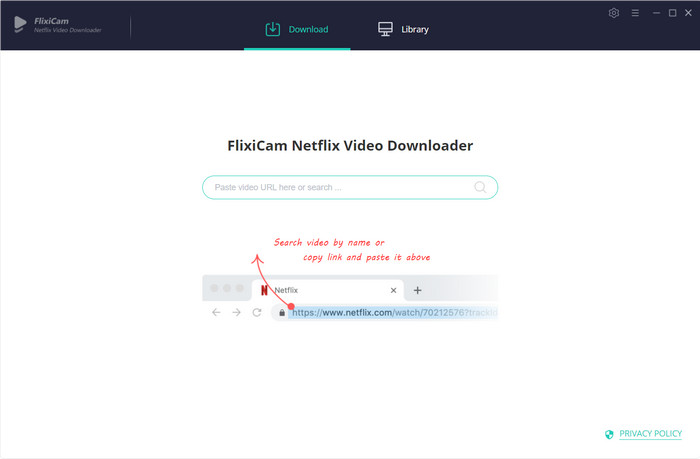 FlixiCam needs to work with a Netflix account to access its services. Fret not, FlixiCam won't collect any information other than the videos. Your privacy can be guaranteed to the greatest extent.
Step 2. Customize the Output Settings
Then, click the Gear icon in the top right corner. The setting window will be opened. In this step, you can change the output format (MP4 or MKV), output quality, and the audio and subtitle languages. If you want to keep the same settings for every download, please adjust the parameters as you wish.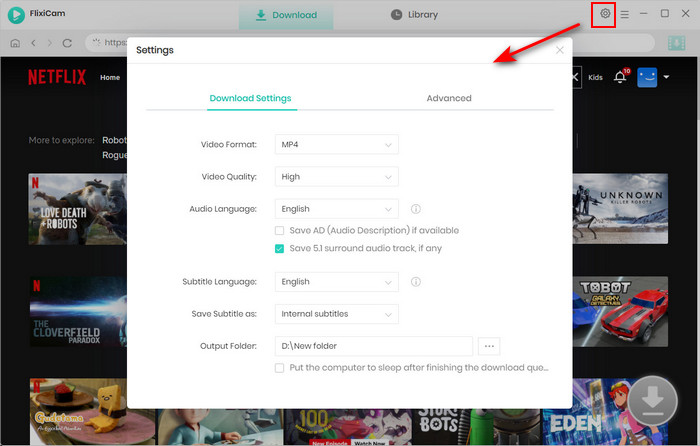 Step 3. Add Videos on FlixiCam
FlixiCam comes with a built-in Netflix web player, so simply enter All Quiet on the Western Front to search for videos.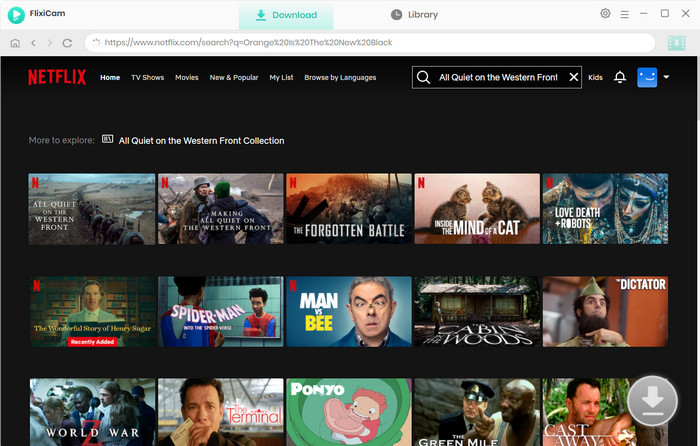 Step 4. Select Audio Track and Subtitle
What if you don't want to save video by default? You can make individual settings for every single video here.
Click on the desired video to begin the download process. As a result, the gray Download icon at the bottom right will transform into a green color. Simply tap on the green icon and you'll have the option to select the season, titles, video quality, audio track, and subtitles.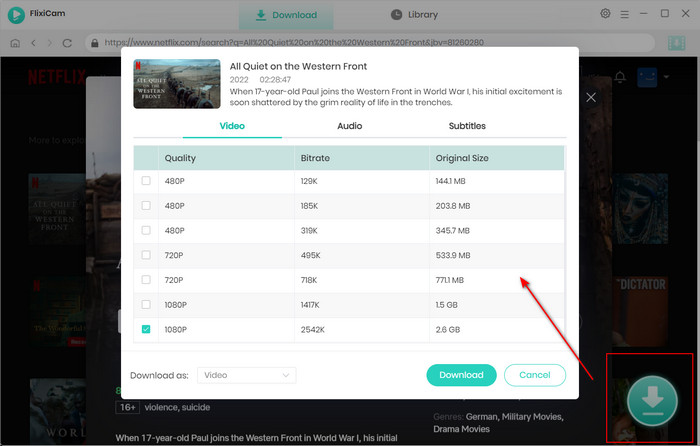 Step 5. Start to Download Netflix Videos
Once you click the download button, All Quiet on the Western Front will be downloaded at a fast speed. To find the downloaded files after the download process is completed, click the "Library" tab.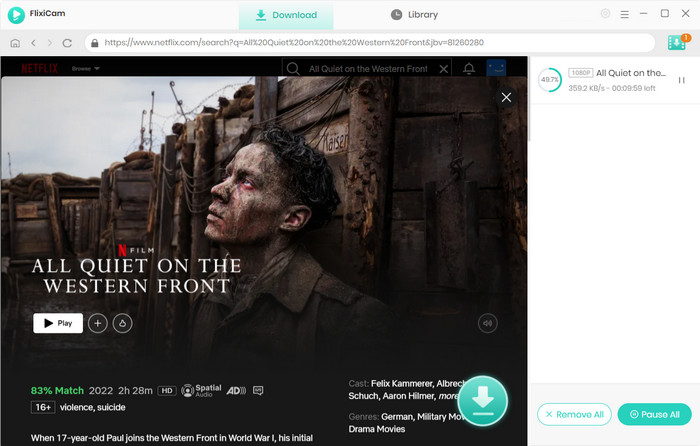 Now you can enjoy watching the Oscars movie offline! To watch them on multiple devices, you can transfer them to devices such as your tablets, phones, or other MP4/MKV-compatible devices.
Conclusion
The best option for downloading All Quiet on the Western Front and other top-notch Netflix content is FlixiCam. Many restrictions won't affect you when using FlixiCam because this program makes it simple to download Netflix videos, and the videos you download never expire. If you move the downloaded files to the screens you want to play on, you can easily watch Netflix videos on multiple devices without an online connection. Don't hesitate to try FlixiCam if you are looking for a useful downloading tool!