Top 15 Must-watch Netflix Original Series
As the world's leading video streaming service, Netflix has done a lot of work in attracting users, including building a rich feature set, and releasing a number of original series. These original videos are now a key part of the entire Netflix library.
The video library of Netflix is vast. If you try to find one original show that very suits your tastes from there, then browsing aimlessly can be daunting. To save your effort and time, here we make a list of the top 15 best original shows on Netflix based on critical consensus and extensive polling and also provide you an excellent tool to help you save Netflix videos on computers forever. Read on, and happy watching!
Part 1. Top 15 Must-watch Netflix Original Series
1. House of Cards
House of Cards, Netflix's first original series, debuted in early 2013, is a political drama about a ruthless congressman and his equally ambitious wife who navigate the corridors of power in Washington, D.C.
2. Black Mirror
Strictly, Black Mirror is not quite an original television series of Netflix. It premiered for two series on Channel 4 in December 2011 and February 2013. After its addition to the catalogue in December 2014, Netflix purchased the program in September 2015. Inspired by older anthology series, Black Mirror revolves around a group of people's personal lives and how technology manipulates their behavior. It is centered around dark and satirical themes that examine modern society, particularly with regard to the unanticipated consequences of new technologies.
3. Dark
Dark is a German science fiction thriller television series produced by Netflix. When two children go missing in a small German town, its sinful past is exposed along with the double lives and fractured relationships that exist among four families as they search for the kids. Dark explores the existential implications of time and its effects on human nature.
4. Stranger Things
Stranger Things is an American science fiction, drama-horror television series. The series is set in 1983 Indiana, where a young boy vanishes into thin air. As friends, family, and local police search for answers, they are drawn into an extraordinary mystery involving top-secret government experiments, terrifying supernatural forces, and one very strange little girl.
5. The Crown
The Crown is a historical drama web television series about the reign of Queen Elizabeth II. It tells the personal, political, and social achievements of Queen Elizabeth II since her ascension in 1952, and the story of the British royal family constantly adapting to the ever-changing but unstable world.
6. Orange is the New Black
This prison comedy-drama is based on the real Piper Kerman's memoir. The 16 Emmy nominations speak for the series itself. Solid cast and strong ensemble, no boring or so-so character. All characters are very interesting to watch, especially because each episode has a flashback of every character's background before they were in prison.
7. Sense8
It's about a group of 8 strangers across the world who suddenly become linked mentally, sharing their thoughts, emotions, and skills. They help each other out of various problems while also trying to find a way to survive being hunted by those who see them as a threat to the world's order.
8. Marvel's Daredevil
This series is set in the Marvel Cinematic Universe, which means, it shares the continuity with the Marvel movies. It is based upon, the famous Marvel comics superhero, Daredevil, created by Stan Lee and Bill Everett.
After the Battle of New York, seen in, The Avengers; New York, is in a pretty bad state, these circumstances, created an opportunity for, various mobsters, thus, increasing the crime rate, in the city, This forced, an enhanced blind lawyer, Matt Murdock, to patrol the streets of Hell's Kitchen, as Daredevil.
9. Narcos
Narcos is based on the story of drug kingpin Pablo Escobar, who became a billionaire through the production and distribution of cocaine. Splicing together dramatized scenes and actual news footage, Brazilian filmmaker José Padilha (Elite Squad) combines Scarface and Goodfellas to track the life of Escobar.
10. Mindhunter
A very charming and fun show that takes on the 70s efforts into expanding psychology and doing away with social stigmas of even talking about certain topics. Specifically, the main characters are FBI agents who travel around the country talking to remarkably well portrayed real-life serial killers to gather information on the psychology that causes people to become serial killers, but also tackles other topics that were and are very much taboo.
11. Big Mouth
Big Mouth is the Netflix animated series about puberty based on Kroll and Goldberg's upbringing in suburban New York, with Kroll voicing his fictional younger self.
12. BoJack Horseman
A humanoid horse, BoJack Horseman - lost in a sea of self-loathing and booze - decides it's time for a comeback. Takes place in an animated world where anthropomorphic animals and humans live side by side, the series evolved from being a comedy about a celebrity horse and his friends in Hollywood to a surprisingly relatable animated story about dealing with depression.
13. 13 Reasons Why
The drama series is an adaptation of the best-selling novel by Jay Asher. Events of the TV show "13 Reasons Why" begins with the fact that high school student Clay Jensen finds a mysterious box on the porch of his house. Inside the box are recordings made by Hannah - on whom Clay had a crush - in which she explains the 13 reasons why she chose to commit suicide. If Clay decides to listen to the recordings, he will find out if and how he made the list.
14. The Punisher
This story also sets in the Marvel Cinematic Universe, that acts as a spi-off to the Daredevil Series, based upon the famous Marvel comic character, Punisher, created by Gerry Comway and John Romita Sr.
Frank Castle, had gone for a brutal rampage upon, everyone responsible for his family's death, which earned him, the title, of "Punisher", all around the New York City. This also made him come in contact with, another vigilante of New York, Daredevil.
15. Ozark
Ozark is an American crime drama web television series. The series stars Jason Bateman and Laura Linney as a married couple who are forced to relocate their family from Chicago to the Missouri Ozarks following a money-laundering scheme gone wrong.
---
Part 2. How to Save Netflix Series on Computer Forever?
Do you want to download and save these wonderful Netflix shows on your computer forever? Or to burn them to DVD? If so, all you need is FlixiCam. It is a professional Netflix video downloading tool, capable of downloading any drama, movie from Netflix as HD MP4 or MKV file. With the help of such a tool, you can keep your favorite videos on your devices so as to enjoy after canceling the subscription.
The following is the detailed tutorial to guide you to download Netflix videos with FlixiCam. Please download FlixiCam program first before getting started.
Tutorial: Download Netflix Video with FlixiCam
Step 1. Run FlixiCam on PC and Log into Netflix Account
After opening FlixiCam on your computer, you'll be presented with a concise and straightforward interface, as shown below. To proceed, simply click the "Sign in" and log into your Netflix account. Be assured that FlixiCam does not collect any personal information and this step is solely for accessing the Netflix library.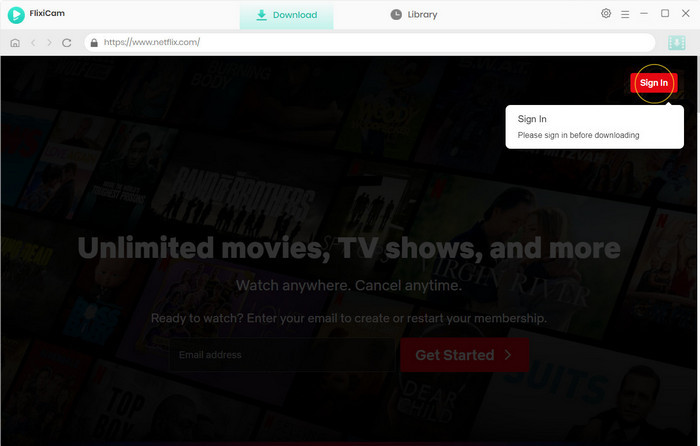 Step 2. Customize the Output Settings
Click the Setting button on the upper right corner to customize the output format (MP4 or MKV), output quality (High, Medium, Low), output path, audio and subtitles language, etc.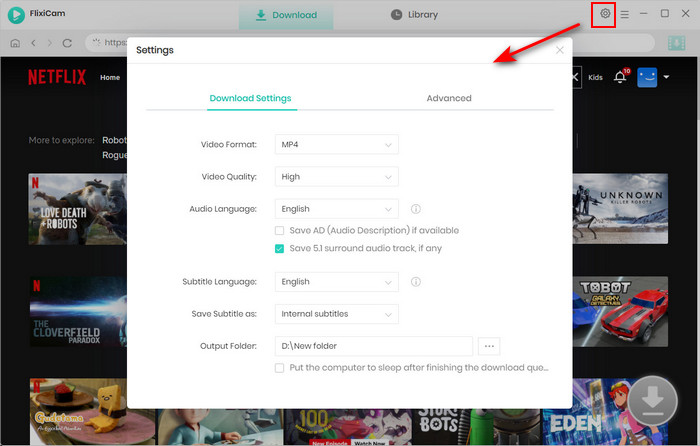 Step 3. Search Videos on FlixiCam
FlixiCam enables you to import videos by entering the name of movies & TV shows directly. After entering, the program will list all of the related videos.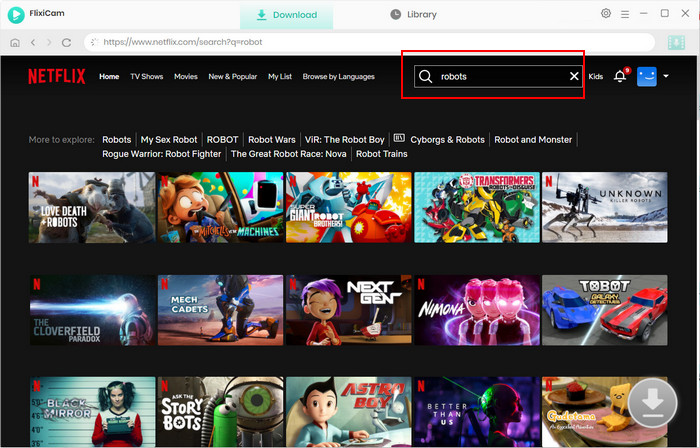 Step 4. Select Audio Track and Subtitle
FlixiCam added advanced download settings to allow you to select the audio track and subtitle as needed. To start the video download, just click on the desired video. Watch as the gray Download icon located at the bottom right transforms into a green color. Tap on the green icon and you'll gain access to options such as selecting the season, titles, video quality, audio track, and subtitles.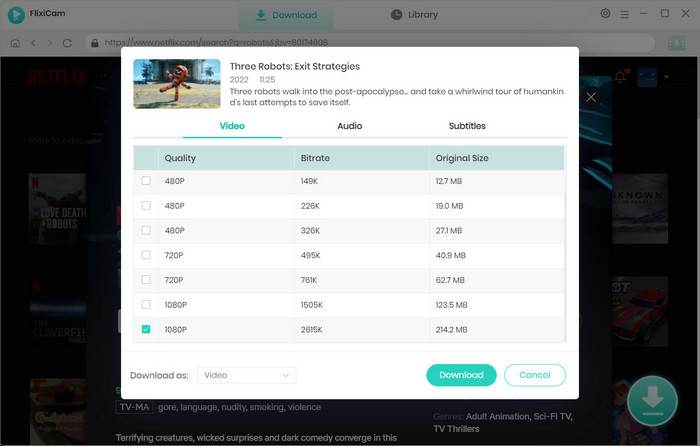 Step 5. Start to Download Netflix Videos
Simply click the Download icon, the program will start downloading the Netflix videos to the output folder. After downloading, you can click on Library to find the well-downloaded Netflix videos on local drive.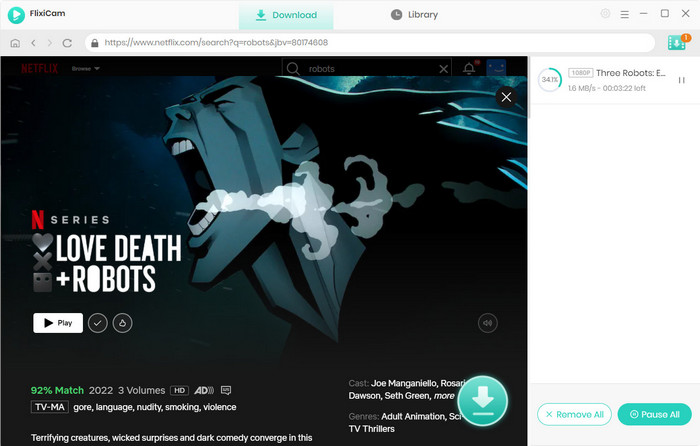 Now all the videos from Netflix are stored as common MP4 or MKV files, you can save them on your computer, or transfer them to any of your devices for playback.
Conclusion
Are you endeavoring to find the best original shows from Netflix's large library? Come here, where you can get a list of top 15 best shows on Netflix. Plus, you will also get an amazing tool to help you save all your favorite Netflix shows on your computer forever.