How to Watch Netflix without An Internet Connection
Netflix has revolutionized the way we watch TV, movies, and documentaries. With a subscription, you have access to a library of content that can be streamed at any time. However, what if you don't have an internet connection? Or what if you're traveling and don't want to use up your data? In this blog post, we'll show you how to watch Netflix without an internet connection. Stay entertained even when there's no signal!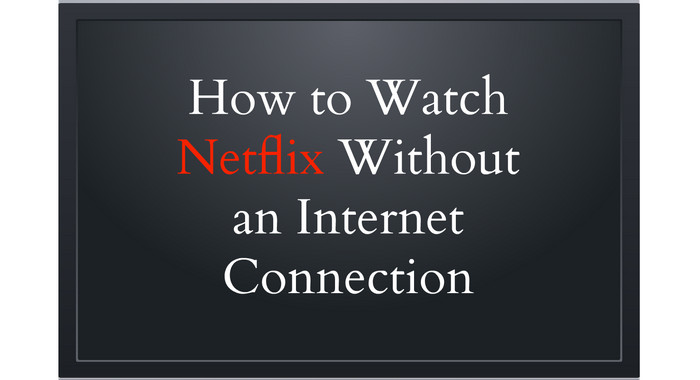 There are two easy ways to work around this issue. One option is to use the Netflix app to download movies and TV shows ahead of time, so that you can watch them offline on its supported devices including Fire tablets, Android and iOS phones, as well as Windows 10, 11 computers. Another option is to use Netflix Video Downloader to download them in MP4 format as to stream those downloads with freedom and without WiFi or network connection.
Method One: Download Netflix videos by Using The Netflix App
The process is pretty easy, all you need is a stable network connection, a valid Netflix account, the latest version of the Netflix app on one of its supported devices.
Step 1 Launch Netflix and log in using your Netflix account. Go into Settings and select between Standard and High, you can change the quality of the videos you download.
Step 2 And then choose the video you want and click the Download icon. You will see a notification at the bottom of the screen letting you know it's downloading. Note that Not all titles are available for download.
Step 3 Once the title has completed downloading, please go to the Netflix Menu again and click My Downloads to see all of the content you've downloaded. And now you can enjoy them offline.
Limits of Method One:
You can have up to 100 active downloads at a time per device on as many devices included in your membership plan.
All those downloads are not transferrable across devices and playable on apps other than Netflix.
All the downloads have an expiration time and will be no longer accessible once your subscription is over.
Method Two: Download Netflix Videos with FlixiCam
If you want to get rid of those limits of the Netflix download feature, then you cannot miss Method two. FlixiCam is a powerful Netflix video downloader that can download any movie, TV show, or documentary from Netflix to your computer. It works on both Windows and Mac computers. All the downloads will be saved in MP4 or MKV format, which means that you can feel free to share them. Plus, it can preserve multilingual audio tracks and subtitles. 5.1 audio and SRT subtitle files are all supported.
Next, we will show you how to download Netflix videos with FlixiCam to watch them without an internet connection. Please download FlixiCam program and follow the steps.
Step 1. Run FlixiCam on PC and Log into Netflix Account
To make FlixiCam work, you must log in with your Netflix account. Open the login window by entering any word in the search box and log into your Netflix account.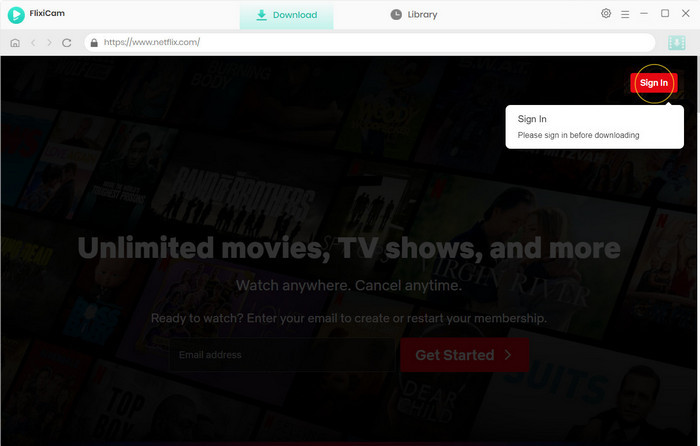 Step 2. Customize the Output Settings
On the top-right corner, you can find the Gear icon and open the Setting window, where you can choose output formats between MP4 and MKV, as well as the output quality. MP4 is the most popular format because it provides a good balance of quality and file size and will play on most devices. If you want to play your video on your PC, choose the highest quality option, which will take longer to finish and take up more space. Plus, you can also modify the output path, select your preferred audio tracks and subtitles, and more.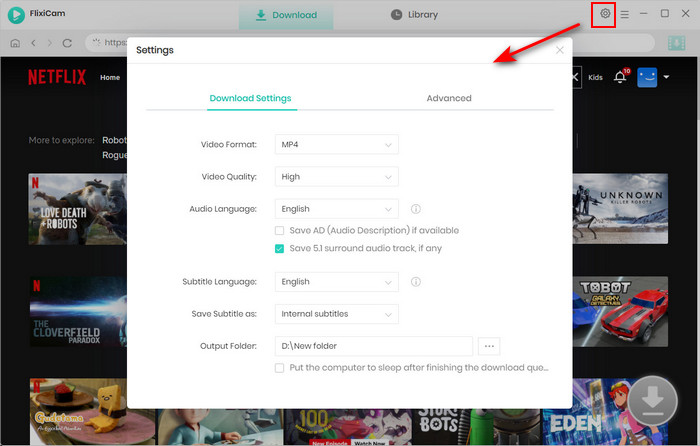 Step 3. Add Videos on FlixiCam
Copy the URL of the video you want to download from the address bar of Netflix website, then return to FlixiCam and enter the link in the search box. Finally, press the 'Enter' key on your keyboard, and the video will be listed soon. You can also search for videos using keywords.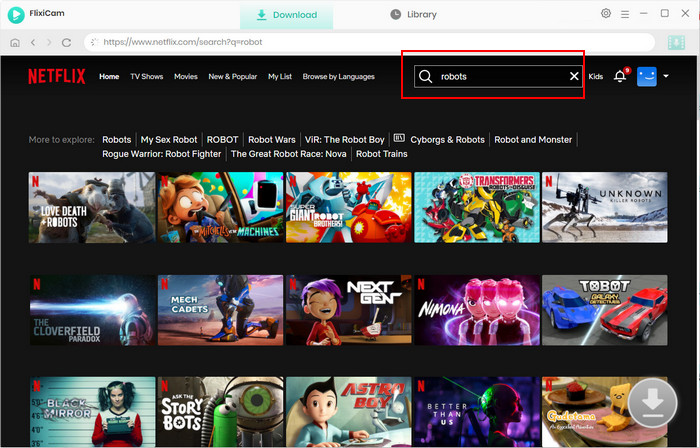 Step 4. Select Audio Track and Subtitle
Now please select the specific audio tracks and subtitles. If you are trying to download a TV show, simply click the Download icon, followed that a window will pop up allowing you to select titles as well as seasons, and to choose audio track and subtitles by clicking "Advanced Download" at the bottom left corner. If you try to download a movie, please click the "Advanced Download" icon beside "Download" to open the window.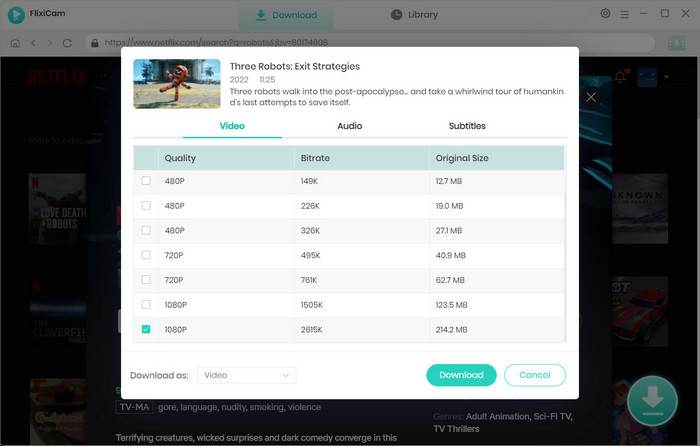 Step 5. Start to Download Netflix Videos
Hit "Download", the program will start downloading the Netflix videos. Once the video has finished downloading, you can find it in the destination folder, or click on Library to find the well-downloaded Netflix video on local drive.
Tips: Benefits of Downloading Videos with FlixiCam
You can save the downloads and watch them offline even though your subscription ends.
The downloads are transferrable. You can share them with your family.
No device limits, you can feel free to enjoy them on any of your devices.
No more expiration time, you can keep them even if they leave Netflix.
Conclusion
There are two easy ways to watch Netflix movies and television shows without an internet connection, both of which we have outlined in this post. If you want to watch content offline on your computer or mobile device, just follow the steps of Method one we've provided. And if you're looking for a way to watch Netflix videos offline without limits, check out Method two to download videos with FlixiCam. We hope this information proves helpful and allows you to enjoy your favorite shows and movies even when you're not connected to the internet.